Another week, another showcase of on-point Instagram talent. This week we're focusing on the world of hard cider, which is a market that is growing exponentially. This growth means cider brands have to step up their online marketing game, and one place we are seeing great content is on Instagram. The brands that have caught our eye are utilizing a well-stocked photo library and posting strategically and consistently to showcase their content.
Ready to be wowed? Check out what these cider brands are bringing to Instagram!
https://www.instagram.com/p/BUbXpbFBxIQ/?taken-by=rekorderligcider_aus
Rekorderlig, an Australian hard cider brand, has a cohesiveness to its feed, incorporating professional photos that are bright and airy. The images are brand-centric but subtle and enticing to view.
https://www.instagram.com/p/BUKemeSBcUn/?taken-by=wyderscider
Looking at Wyder's Instagram feed, one can easily imagine incorporating this cider into their daily life. The feed is almost whimsical with filters that are light, warm and inviting.
ANXO is leading the way on the cider scene in Washington, DC. From hip shots of the restaurant to delicious pictures of food and cider, it's clear this is a scene you do NOT want to miss out on!
We love that Portland Cider has a consistent theme of red that jumps out to Instagram fans once they land on the feed. The company also does a great job of harnessing professional photography to show its cider out in the world, whether that be a mountain lake or at Red Rocks!
Cider brands like to keep their fans engaged by trying new and exciting ingredients. Reverend Nat's Instagram offers a similar variety of engaging photos, showcasing the beauty of its cider with clean and bright photography.
Everything about Shiny Apple Cider's Instagram feed is soft, from the filters to the pastel color scheme. The result is a gorgeous effect that encourages Instagram users to keep scrolling for more.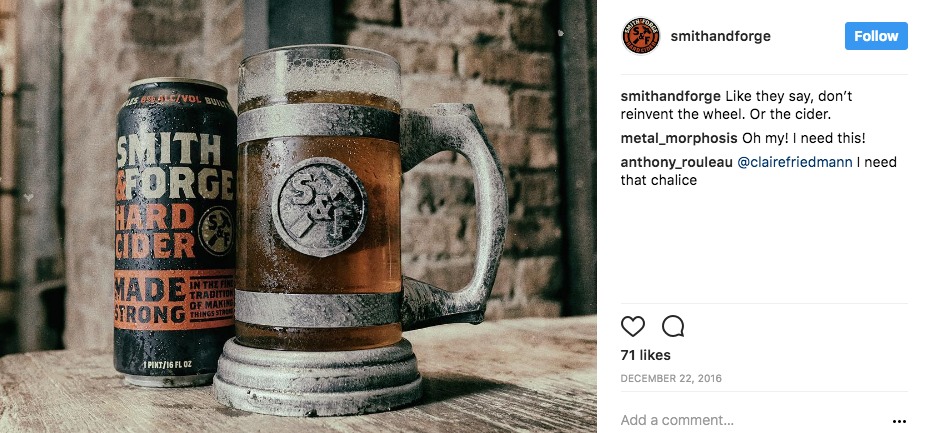 There is a raw beauty in Smith and Forge Cider's Instagram content, highlighted with gritty photos that have a consistent grey and reddish-pink theme. The end result is a unique metallic visual that is gorgeous and vibrant.
The casual feel of Downeast Cider's feed is easy to embrace. The bright photography takes fans around New England, with offerings of tasty food, bright cans of cider and cute puppies. The down-to-earth feel is a big winner with the audience!
***
Having fantastic examples is a great springboard to breathing new life into your own brand's Instagram. Check back for more Insta-spiration in the weeks to come!
Do you see culinary brands that are really winning the Instagram game? Leave a comment and tell us about it so we can feature them in a future roundup!