What catches your eye when you land on a brand's website? What kind of content draws you in? Each week, we're praising the brands and businesses who just get the importance of an online presence. They have a blog, and they are using it right. From food blogs, food businesses, wine companies and lifestyle brands to tourism sites, real estate groups and craft spirits, we've covered them all.
This week, we've got a local company who is adding a hot shot of java to its content—literally.
Say hello to La Colombe Coffee.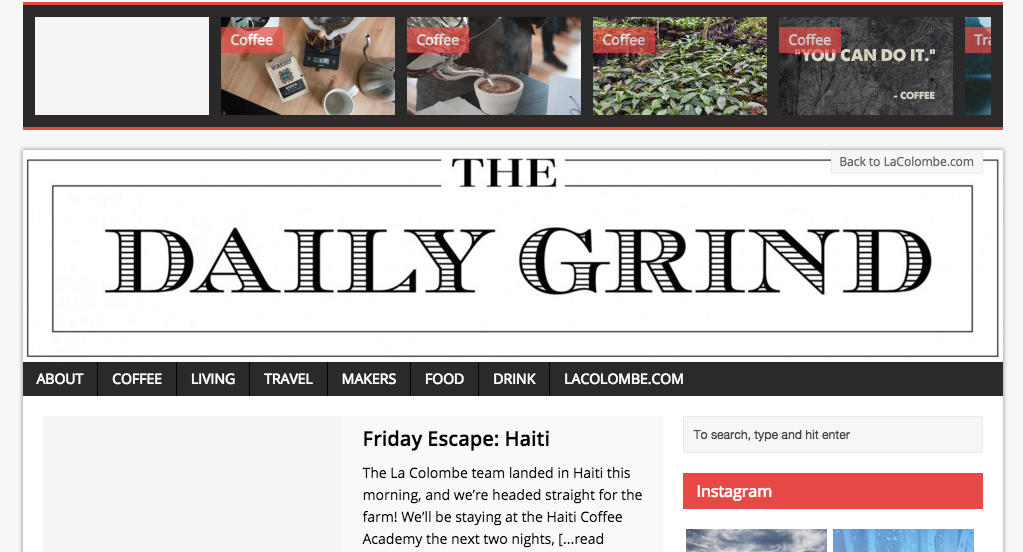 First, let's talk about the amazing images. Having an eye-catching picture is an important component to blogging. Why? It's the first thing someone sees when they land on your blog. La Colombe gives readers an eyeful of beautiful imagery in every post.
A good rule of thumb for blogging: give people variety. La Colombe does an amazing job of mixing up the type of content they create. Check their blog for a Coffee Lingo post, explaining one of the various words in the coffee vocabulary (such as Demitasse and Macchiato) or learn how to make Turkish Coffee (hello!) like a pro. Follow La Colombe's journey to Haiti and make sure to start your week with their weekly Monday Motivation post!
Last, we have to give La Colombe a high five for one of the most difficult parts of blogging: consistency. Fresh content keeps people interested, and they're giving us new posts almost every day. Forget the morning paper—we have the La Colombe blog!
You do you, La Colombe. We dig it.
Do you have a restaurant, food or beverage blog that you love? Tell us about it in the comments. And stay tuned for next week's pick!
Dish Works' team of professional food or drink brand bloggers is available to answer any content questions. Need help supplementing content? Just ask!