From pizza to pancakes, cocktails to cupcakes, apple dumplings to al pastor, all of the work we create for our clients at Dish Works is scratch-made, edible food. Sure, we have our food stylist tricks to make sure dishes and products are ready for their close-ups, but we pride ourselves on creating visuals that look so delectable because the food is fully edible.
It's our amazing culinary team that tackles this Herculean task day in and day out. Thanks to their combined talents and skills, the food that arrives on set in the Dish Works studio (which is also prepared in our on-site, restaurant-quality kitchen) always looks fresh and beautiful. We're proud to introduce you to our culinary team — check out Part 1 of our post, then read on to meet Terrill, Patrick and Pam!
Terrill Orr, Test-Kitchen Chef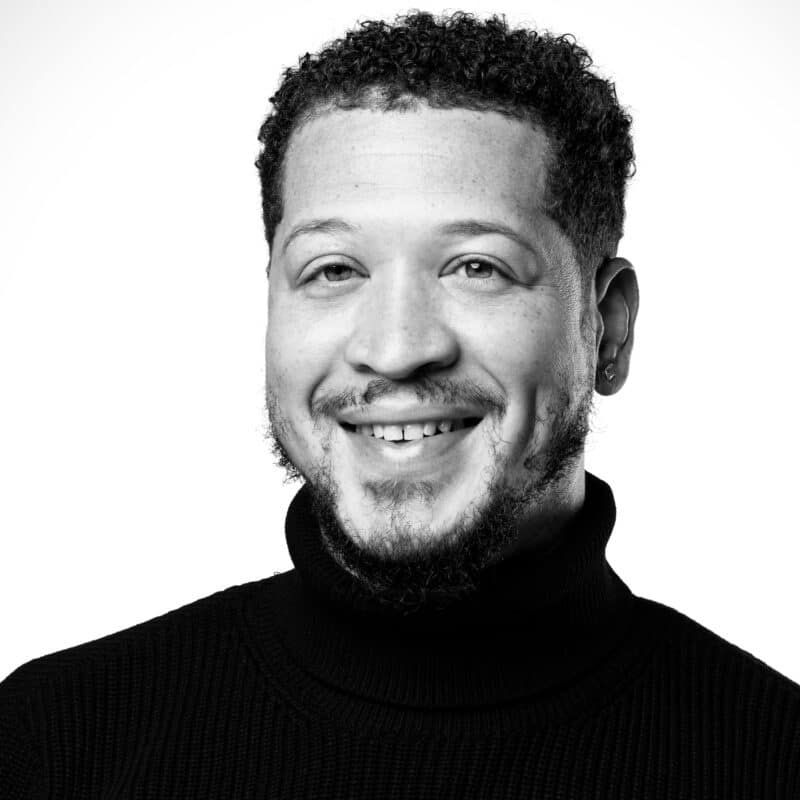 "I've always loved food and cooking, even as a kid. It sounds cliche but I was always in the kitchen with my mom and grandma as they were cooking," says Terrill Orr, the test-kitchen chef here at Dish Works.
Growing up in York, Pennsylvania, Terrill's family always appreciated food, from weeknight dinners to holidays. As the son of a Puerto Rican mom and Black dad, his mixed-culture family would celebrate their foodways with foods that still capture his memory, like slow-roasted pork shoulder, and pasteles, which are a bit like tamales, but are made with mashed plantains instead of mais.
Like Ian (see Part 1), Terrill attended a vo-technical high school, York County School of Technology. There, he learned to cook professionally. After graduating, he took a year-and-a-half off and held down a kitchen job while debating his next move.
He decided to enroll in Harrisburg Area Community College's culinary program. He'd actually earned a scholarship to Johnson & Wales, but he wanted to stay closer to home and family.
"Going to a community college maybe isn't as prestigious, but it's all about what you personally take and get out of it," he says. "I got what I wanted out of it, my associate's degree, and I was still able to partake in externships, and didn't have to worry about school loans."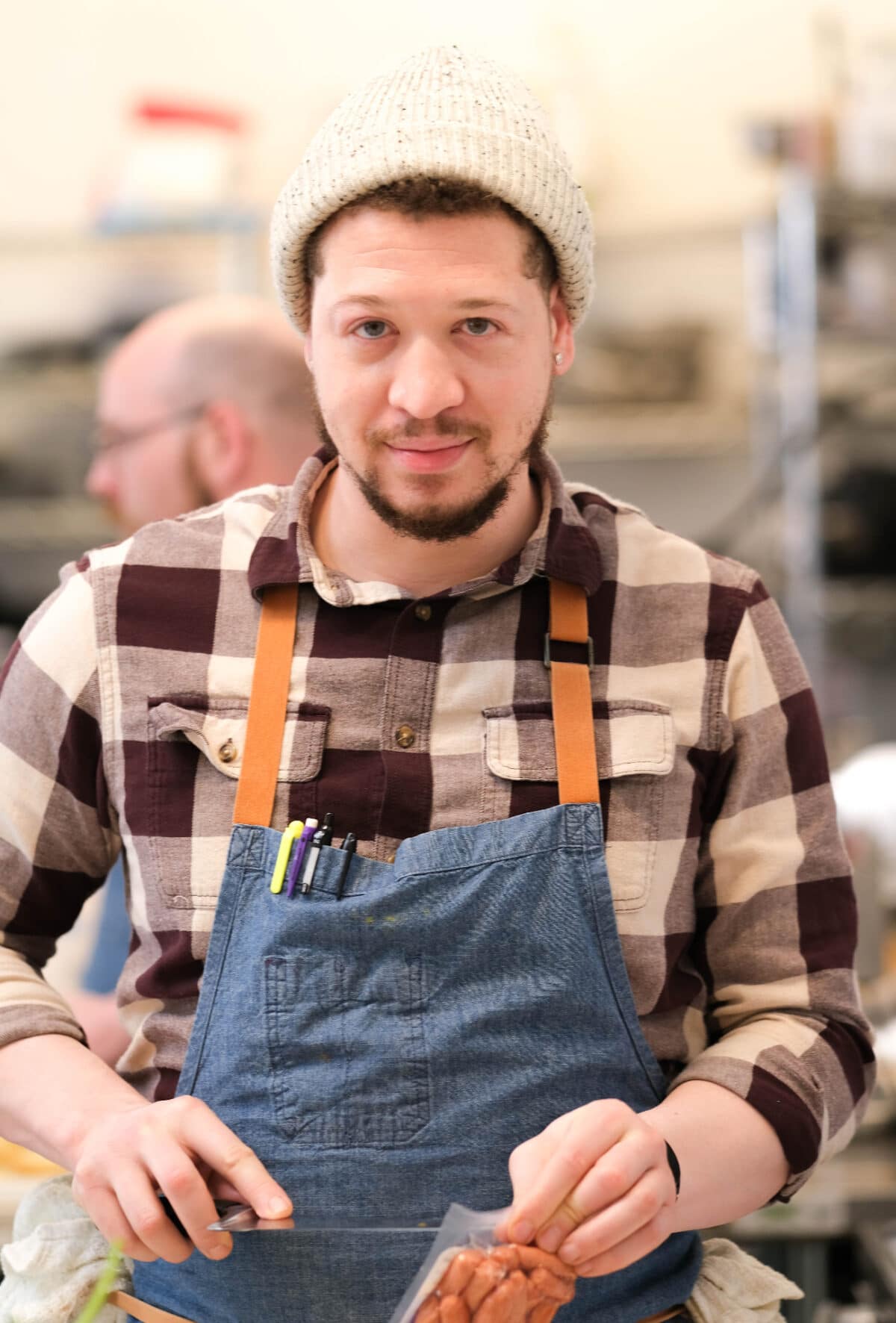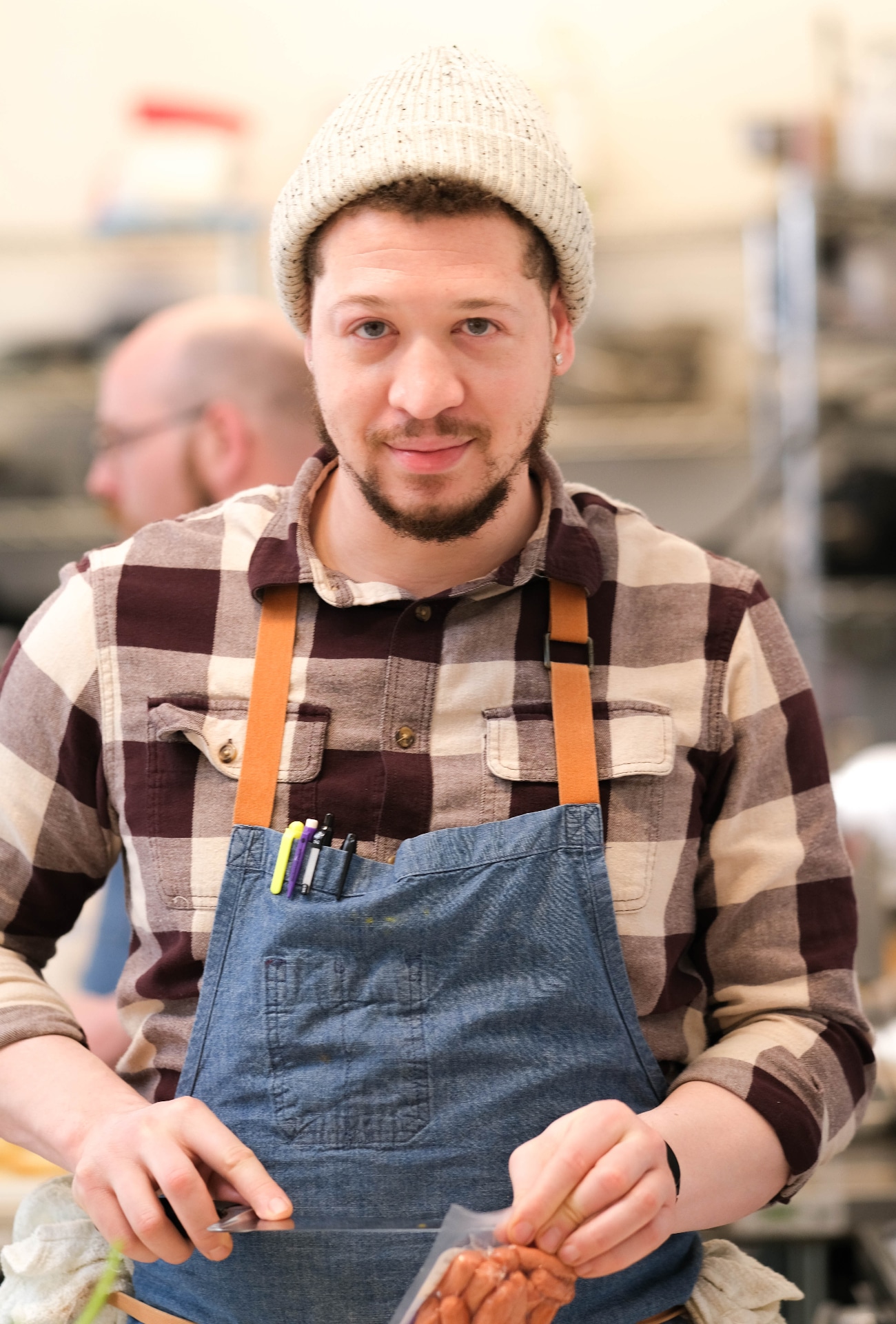 His favorite class at community college was an international food class, where, as part of their final, the students cooked and hosted a dinner, with groups representing specific culinary regions. They invited their friends and family to the feast.
After graduating in 2010, he was ready to jump back into the field. While he says there was a lack of opportunity in the area, he made his way to The Left Bank, a restaurant in downtown York, where he had a positive experience. He stayed there for four years, and then moved out to Pittsburgh, where the culinary scene was rapidly growing.
There, he worked with James Beard Award-winning chefs at lauded spots, like Salt of the Earth and Bar Marco, learning new skills and techniques along the way.
Terrill first found out about Dish Works from a friend who knew of us. He'd heard we were looking to hire someone for the culinary team, and he decided to reach out. While visiting family for Thanksgiving in 2020, Terrill visited the studio and interviewed. After being offered the job, he went back to Pittsburgh, packed up his things, and moved back to Central PA all during the same weekend, and started with us that Monday!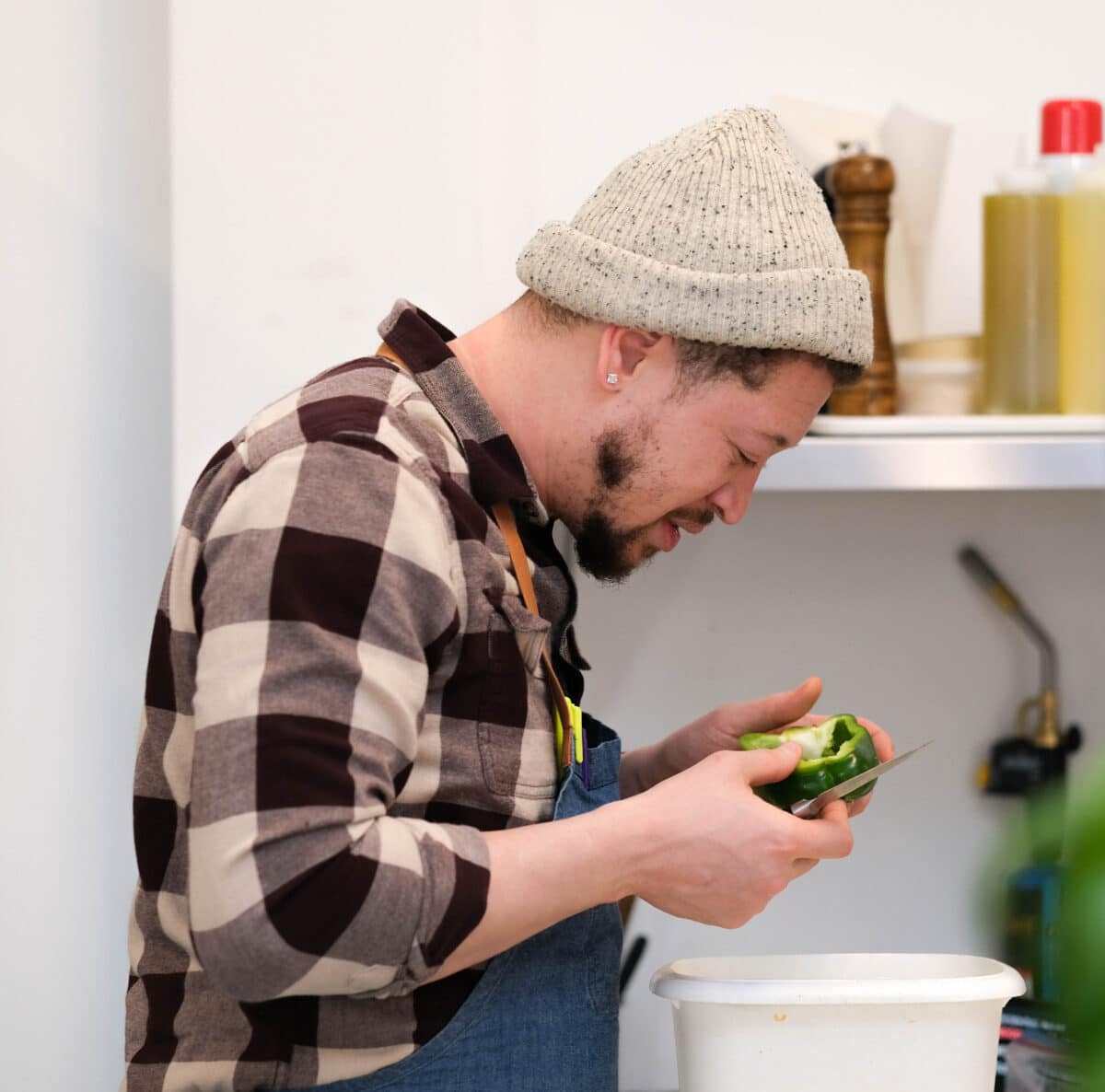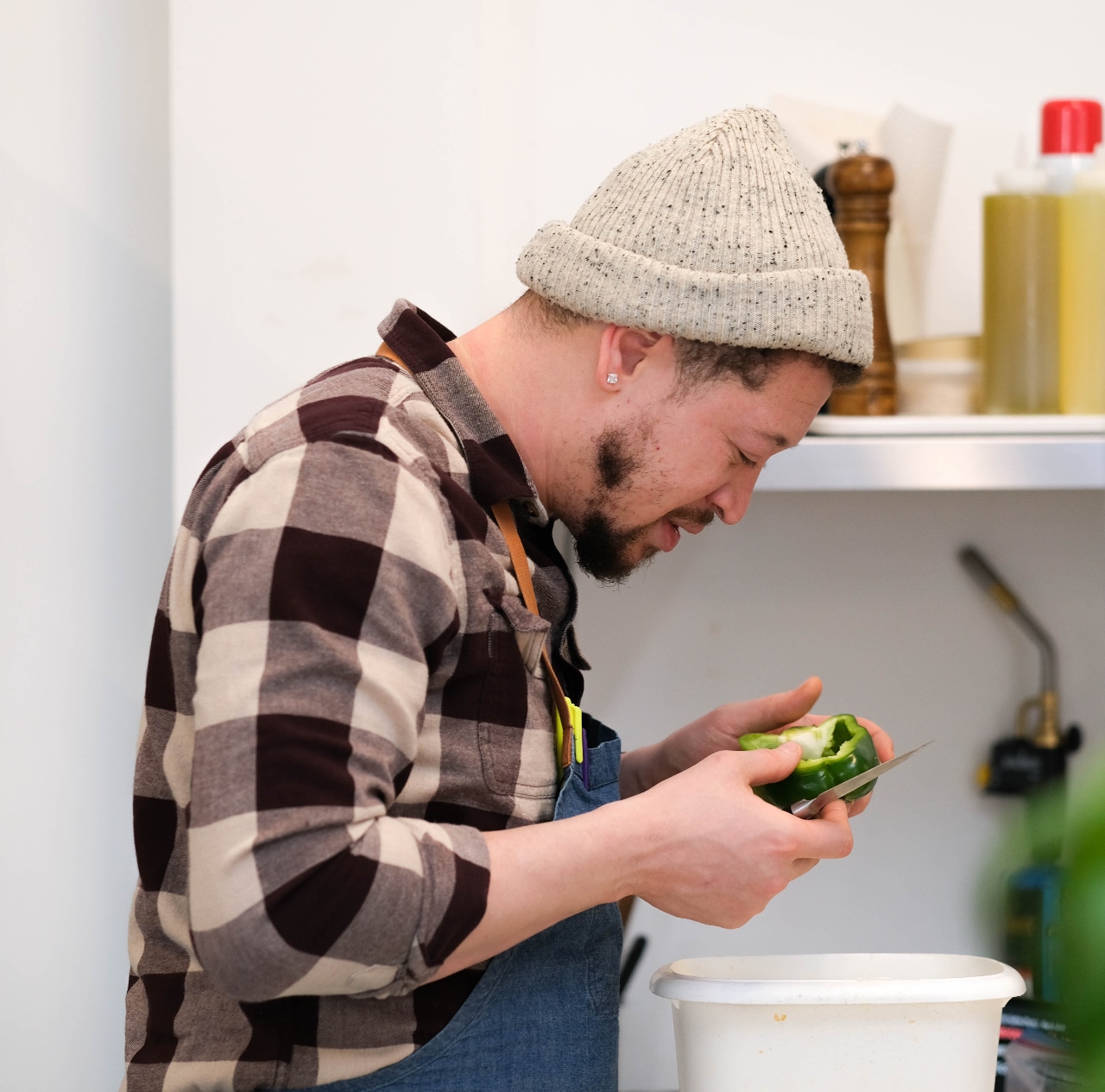 As part of the Dish Works culinary team, Terrill says that a huge part of the job is paying attention to detail and making sure everything is camera-ready. He enjoys the collaborative effort between the culinary team, art directors and food stylists.
Terrill is also one of the driving forces behind the Dish Works staff lunches, which are somewhat infamous among the rest of the team. For the past year, Terrill and the crew have been creatively repurposing excess unused product in the studio to prevent it from going to waste.
Sometimes, that looks like focaccia bread that didn't rise being used for making pizzas. Other times, it's turning an excess of cheese in the fridge into a gourmet mac-and-cheese.
A few months ago, there were plantains in the studio for a shoot, which Terrill noticed were at perfect ripeness after they'd been on camera. With them, he made a staff lunch dish similar to canoas de platanos, a Puerto Rican dish which translates to "canoe." Traditionally, plantains are split open and filled with seasoned ground beef and shredded cheddar cheese, then baked so the cheese melts and the plantain caramelizes.Terrill made a vegetarian version for the team.
"I felt good about that because I was able to share a little bit of myself with the people I see every day," he says.
Currently, he lives in Lancaster with his girlfriend and their infant daughter.
Terrill shares that he is legally blind, and that he loves that cooking lets him use his other senses: feel, smell and taste.
"I try to let everyone know who's meeting me for the first time that I may need a little extra help, but once I get something down I'm usually pretty solid," Terrill says. "Cooking on the line with guys who could see, I always had to work twice as hard. But I never expect to be treated any differently — my mom didn't raise me that way."
Patrick Boyer, Culinary Team Member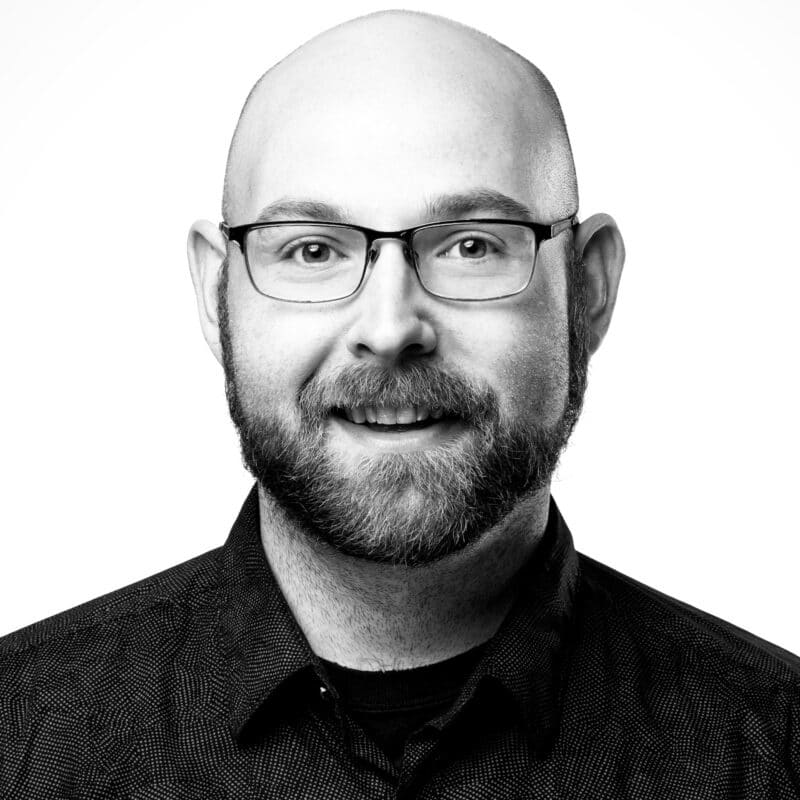 Growing up, Patrick Boyer was surrounded by entrepreneurs and people who had their own businesses. So, at a young age, he knew he wanted to work in food, and he knew he wanted to take control of what he did for a living.
So, in high school, he went to the Lehigh Career Technical Institute, in Schnecksville, PA, with a focus on baking and pastry. He participated in bread making, pastry, and cake decorating competitions where he usually placed well. And after graduation, he attended the CIA (Culinary Institute of America) for two years, where he earned his associate's degree.
"After about five years of education, I decided it was time to just go out and start working," Patrick says. "After college I moved home to the Lehigh Valley and worked at an Italian restaurant where I learned a lot."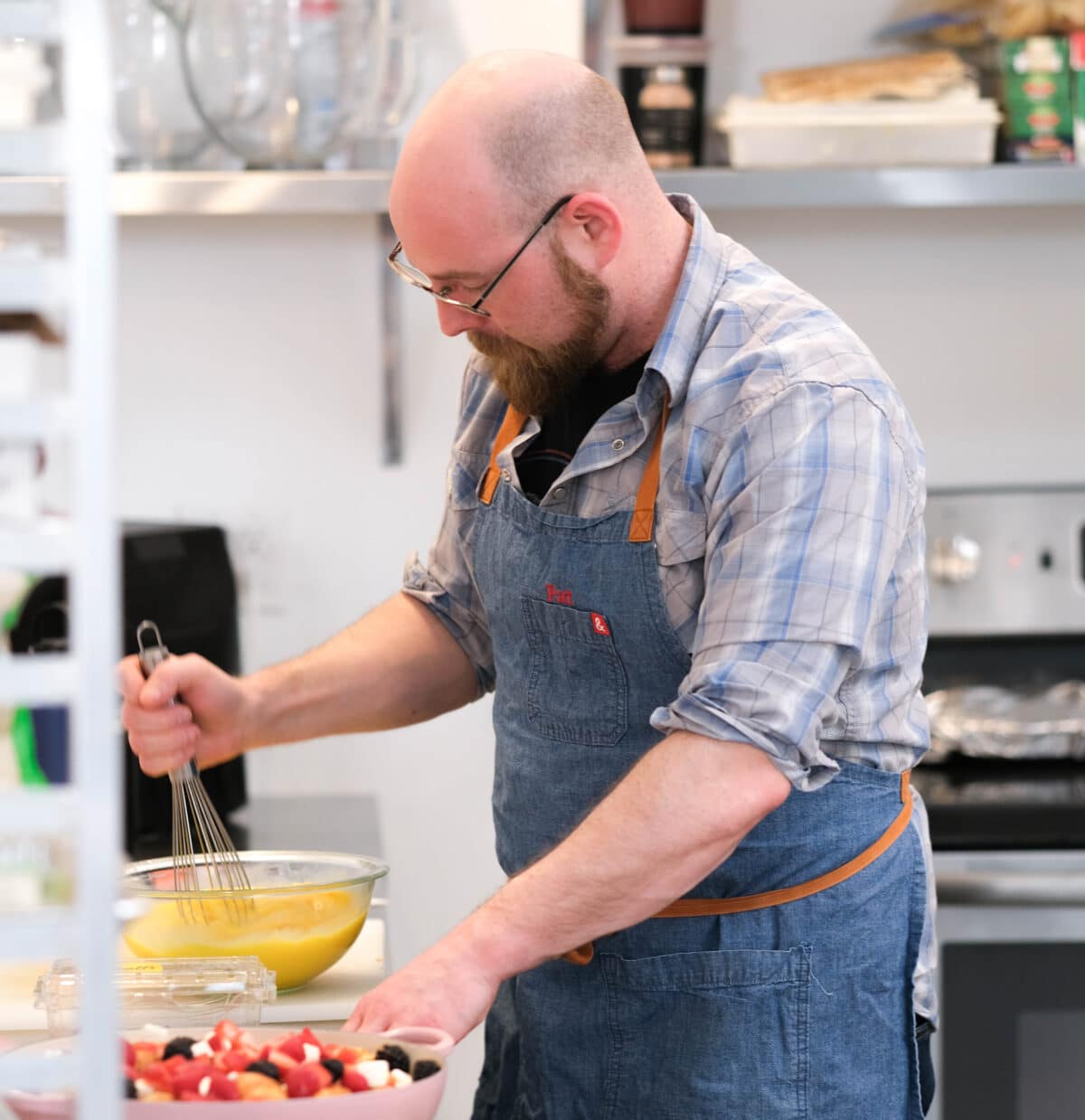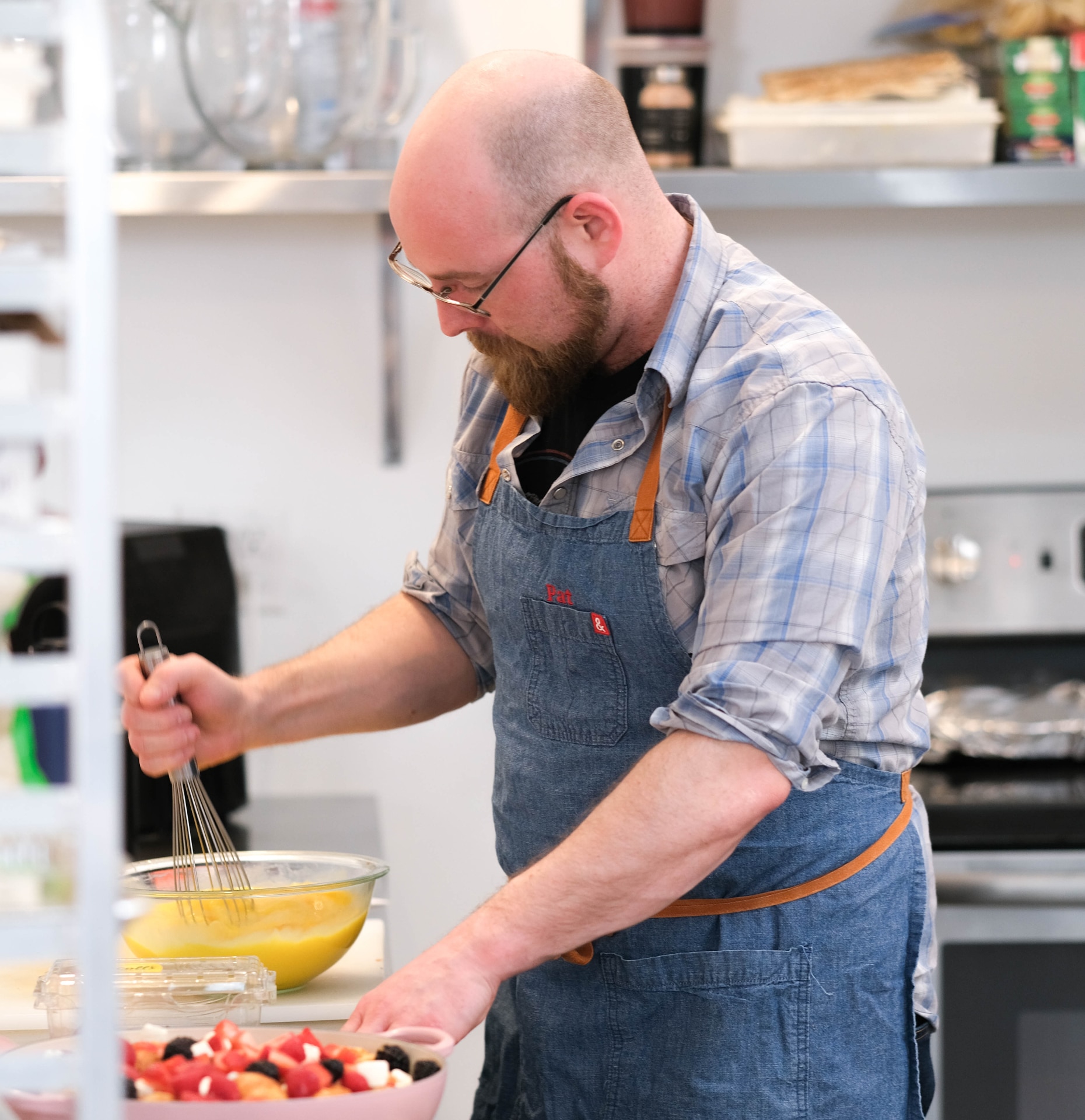 In 2008, Patrick moved to Philadelphia and worked alongside big-name chefs, like Kevin Sbraga and Marc Vetri. He helped head up the Terrain brands for two years, which briefly brought him to California.
During the past few years, Patrick established a relationship with Mary Bigham (Dish Works CEO), by occasionally coming into our studio to help out with certain projects. He loved what we were doing, but wasn't ready to relocate to Lancaster from Philly.
But, then the pandemic hit, and his priorities began to shift.
"In the restaurant business, the desire to progress was my only focus for 20 years, but that changed," Patrick remarks. "My quality of life has become a bigger priority for me in the past few years, so I decided it was time for a change, and I joined the team to try to help Mary with her vision."
When comparing studio work to his career as a chef, Patrick says that there is less of a sense of constant pressure.
"The studio environment is also sensitive with timelines, but they are broader and longer, and because of that, I'm able to breathe a little more," he notes. "My threshold for pressure is high, but that took years of swimming through that feeling of immense stress."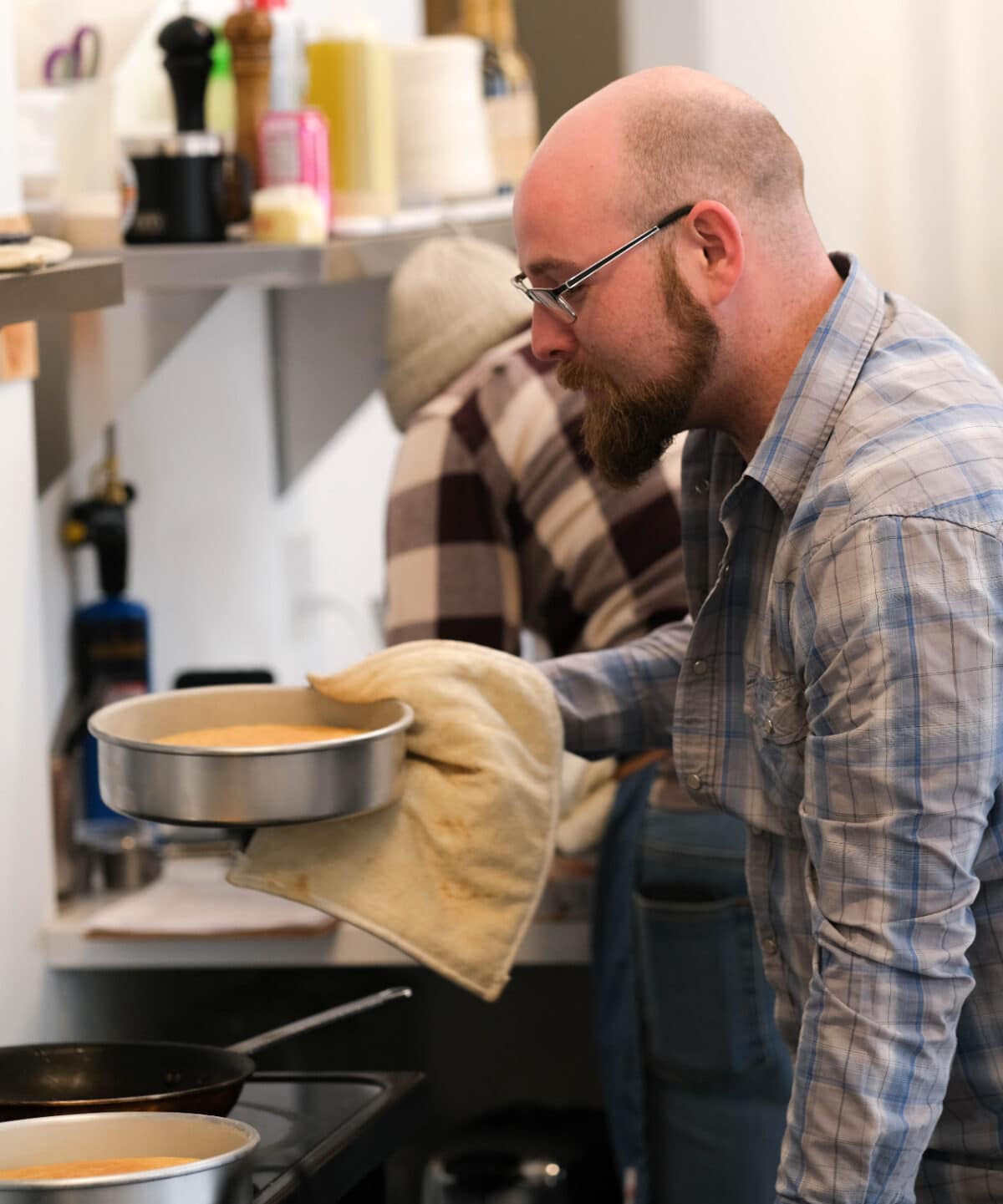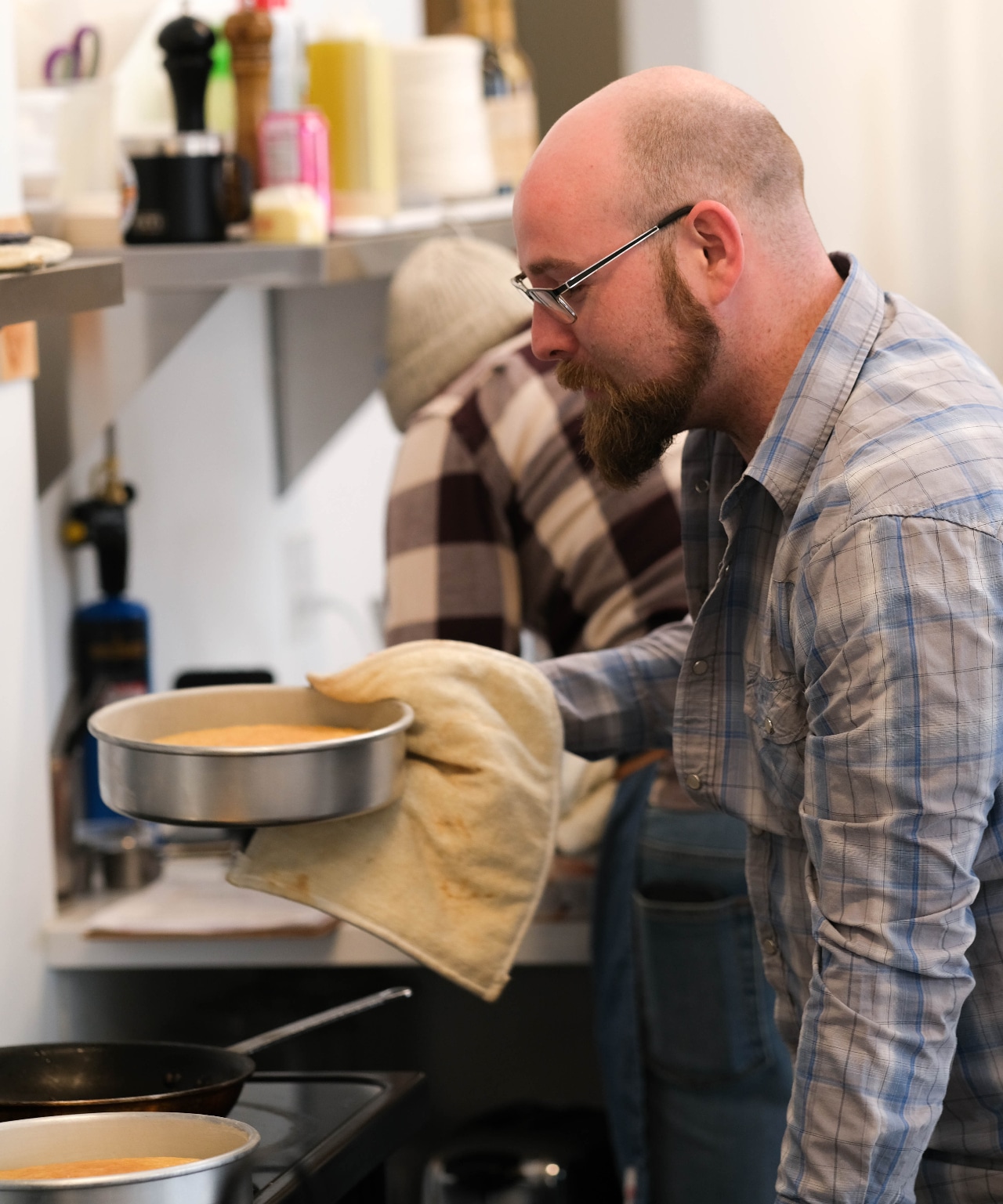 Patrick loves working with the culinary team, sharing his knowledge of food and techniques and the history and anthropology of food. It's also rewarding for him to see the ideas that the clients come up with, and how the Dish Works team turns those into reality.
Patrick says, "In 24 or 36 hours, we can turn a script into a real thing sitting in front of someone. That aspect of what we do is pretty amazing!"
Pam Pakradooni, Pastry Chef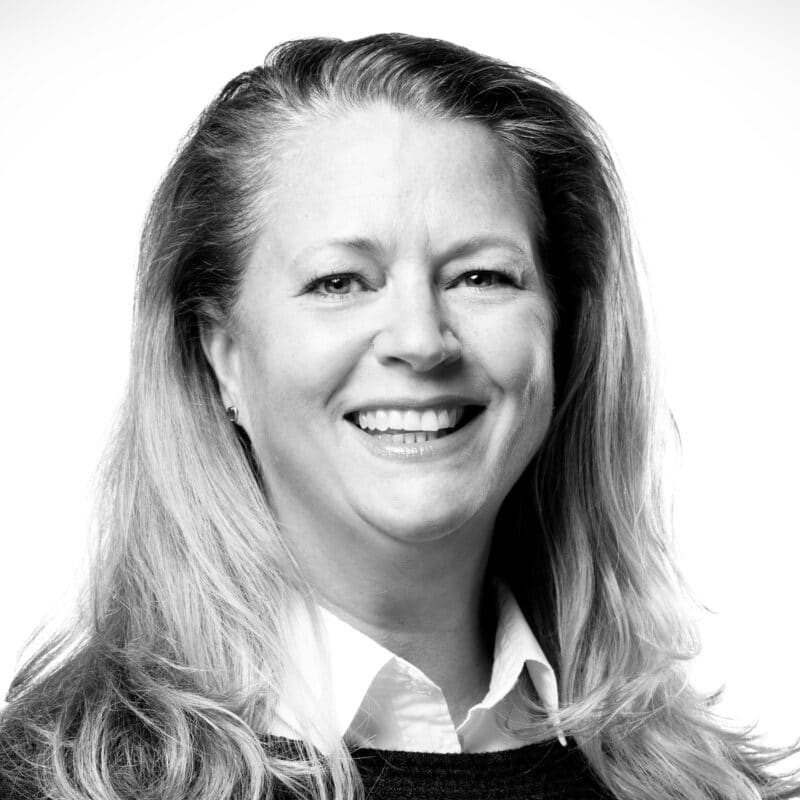 Like so many folks on our culinary team, Pam Pakradooni got her start in the culinary world when she was a teenager. She grew up in Northwest Indiana, and her uncle, who lived nearby, was a liquor distributor with a number of restaurant clients. He knew that Pam loved baking, and he helped her get a job in an Italian fine dining restaurant, where she learned how to make classic desserts, like cannoli, creme caramel, chocolate mousse and cheesecake.
She fell in love with pastry, and wanted to attend culinary school to focus on it, but was encouraged by her high school guidance counselor to pursue a more practical tract. It was, as she points us, the late 1980's, and the idea of pursuing a degree in a specialized culinary field was still relatively novel. So, she attended Johnson & Wales with concentration on culinary, and stayed on for two extra years to earn her degree in food service management.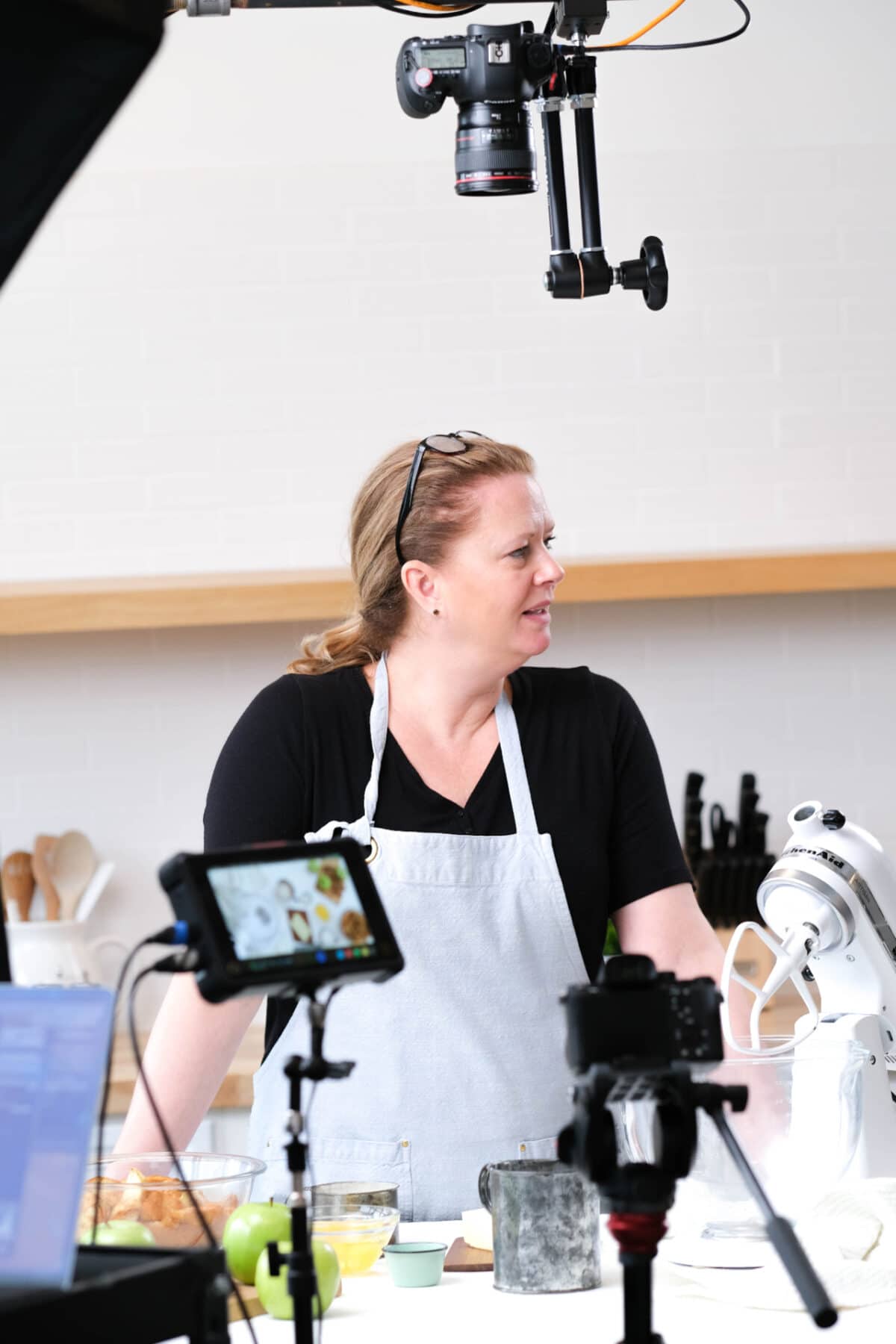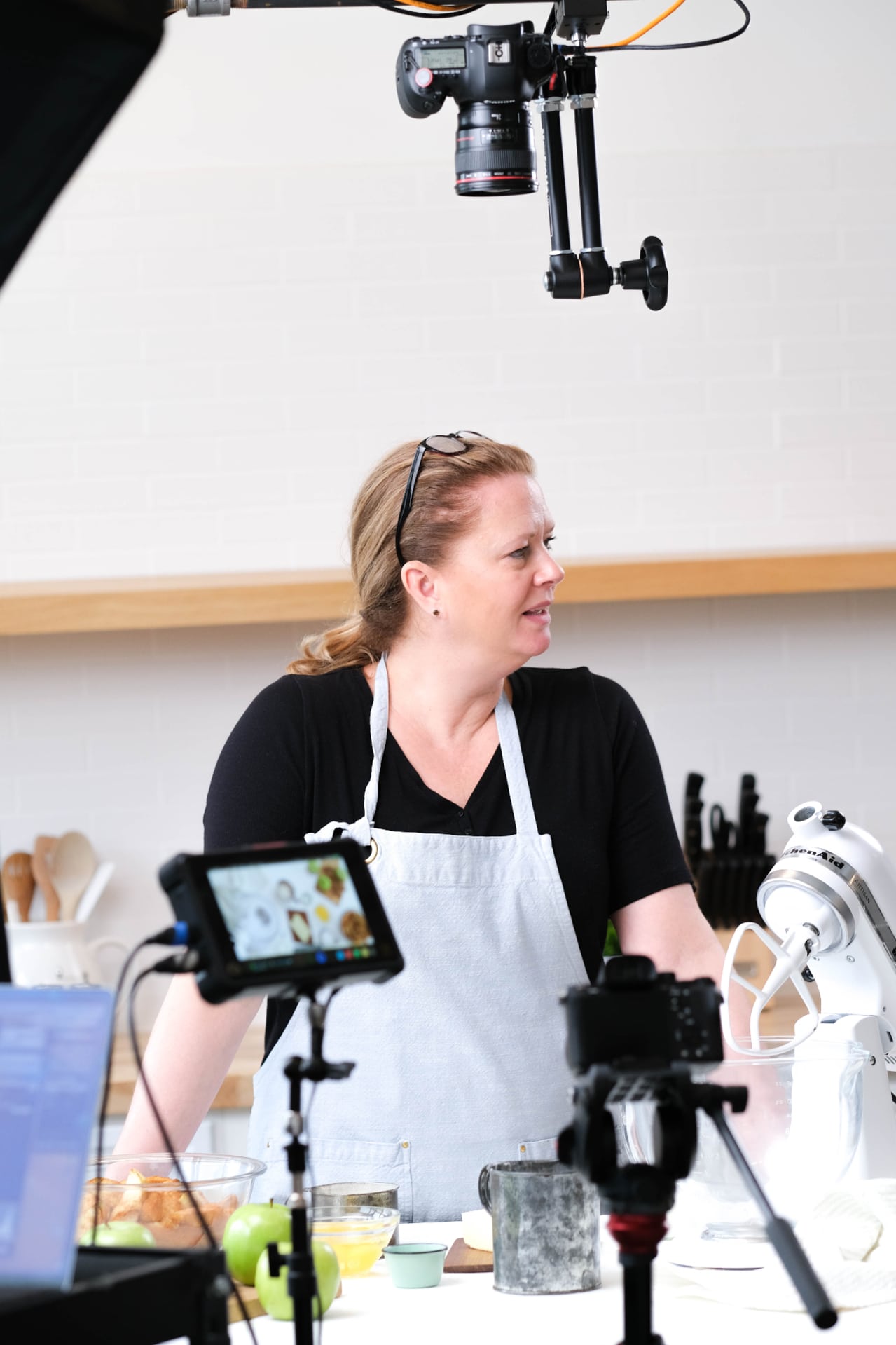 After graduating, Pam moved to Chicago and began working with the hospitality group, Lettuce Entertain You.
"I did rounds in the kitchen at The Pump Room and ended up realizing that the culinary side wasn't for me, but I loved the industry," Pam remembers. "Everyone in the restaurant industry is so passionate about their jobs, it's all about creating amazing experiences for people."
She stayed with the company but moved into catering sales, which she did for five years before moving to New York City to join Union Square Hospitality Group, and she helped to open the legendary restaurant, Eleven Madison Park. She kept working in catering sales, but always maintained relationships with her friends who worked in restaurant kitchens.
"I was always hovering around my pastry chef friends," she says.
Pam's career switched gears rather abruptly when she met and married her husband. In 2000, they moved to Reading, PA from New York, and Pam decided to leave the restaurant industry so that their schedules wouldn't be so mismatched. She began working for a specialty foods importer in Philadelphia, commuting there from Reading. The company sold all kinds of gourmet foods, like caviar and foie gras, as well as high-end baking products, like vanilla beans and Valrhona chocolate, which she loved selling to local pastry chefs.
After having two babies within two years, Pam decided to take some time off from professional work. For the next decade, she primarily focused on her kids, as well as helping her husband grow his small business and working at her children's school. Then, in 2018, she was introduced to Dish Works through her sister-in-law, Jenny Pakradooni, who was one of our first art directors. One of our clients needed frequent pastry work, and Pam joined our team to head up those projects!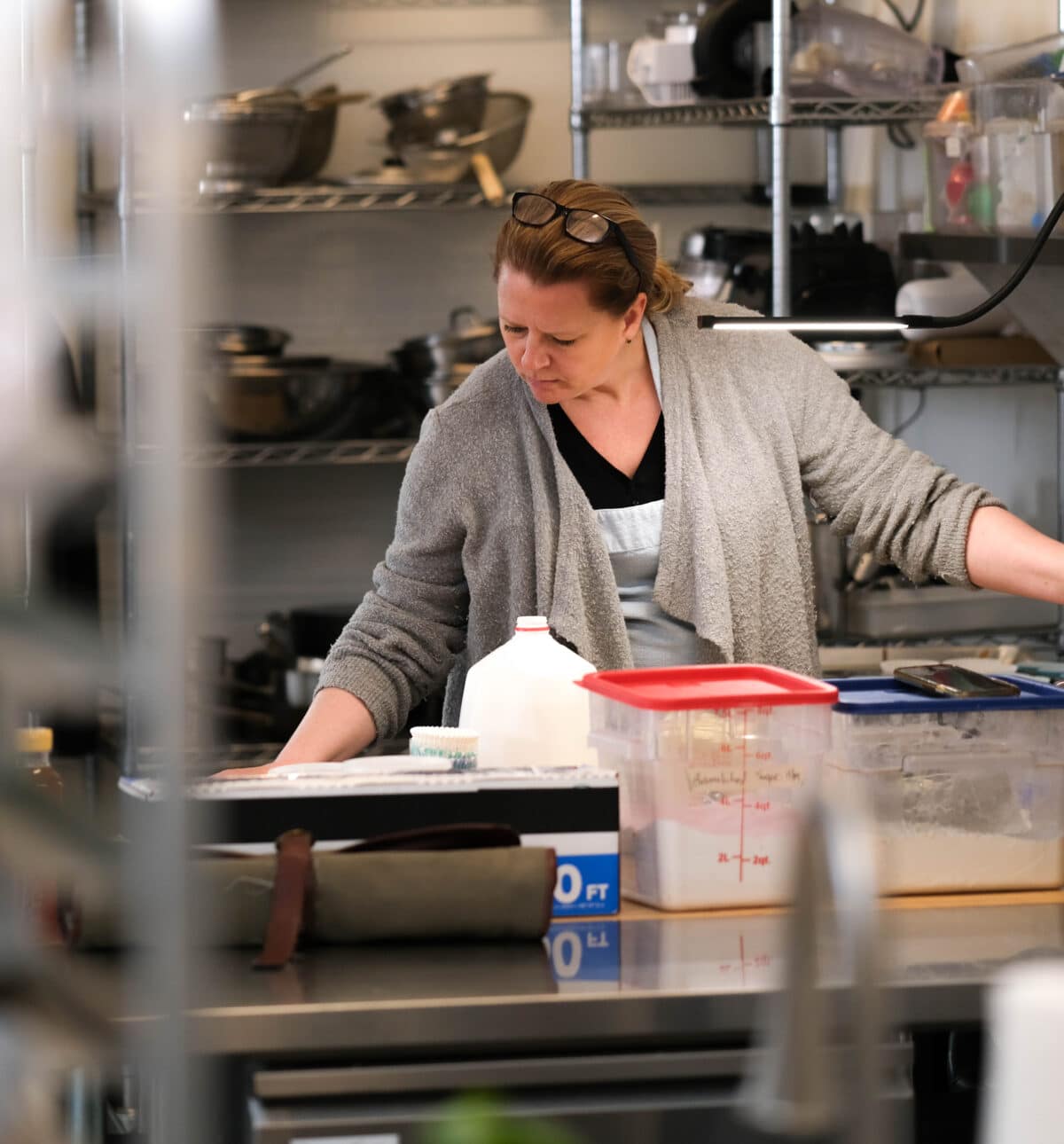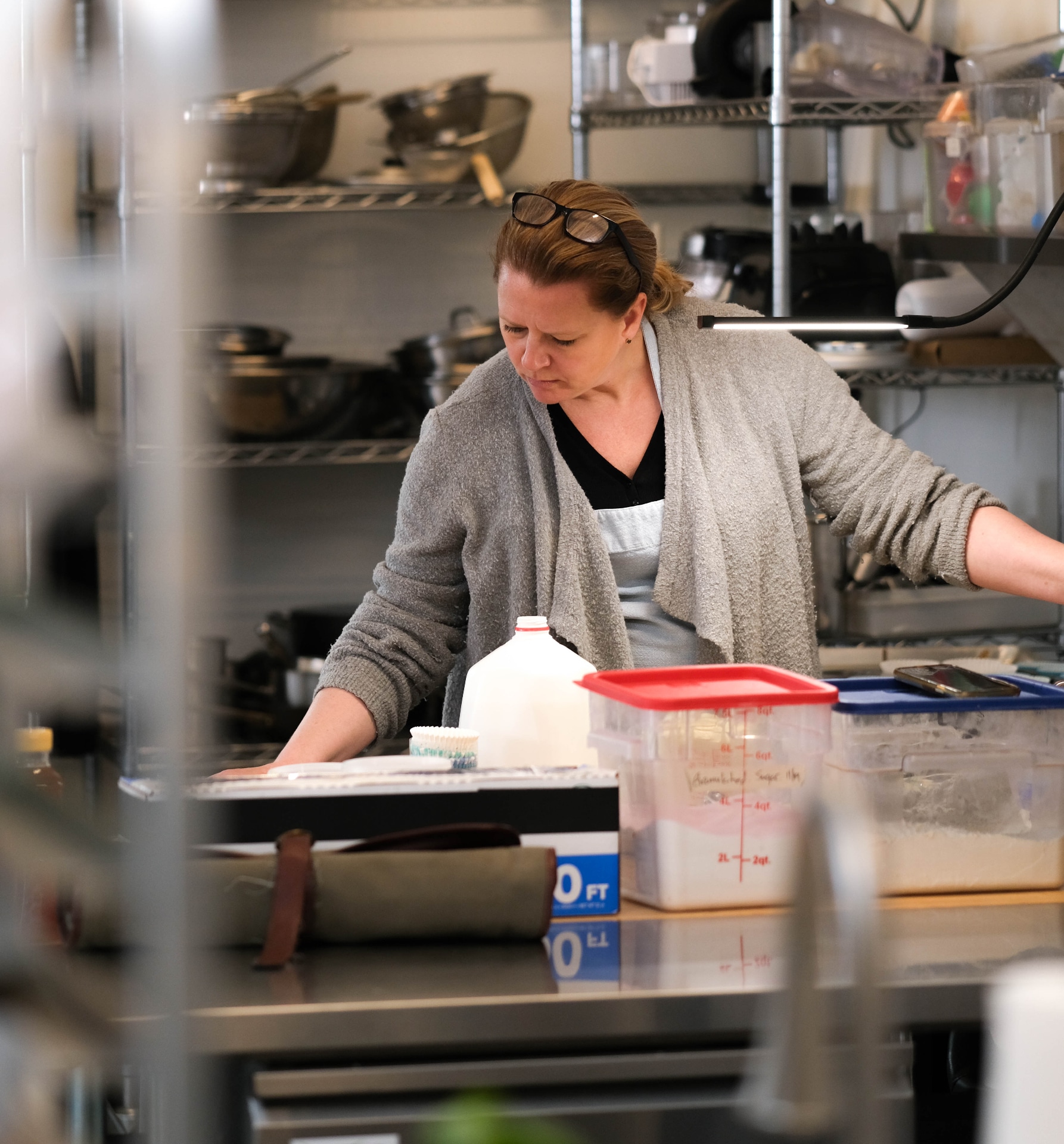 Pam enjoys how many learning opportunities there are in her role as our in-house pastry chef. If you've ever watched a baking competition show, like the Great British Baking Show, you know how temperamental and unpredictable working with sugar, yeast and pastry can be. But Pam says the challenges just create new ways to grow as a baker. She also gives credit to the rest of the Dish Works staff, who she says "gives so much love."
She also says it's fun to see people respond to the content (including her beautiful pastry creations) that gets posted on the Dish Works Instagram and TikTok pages.
"All of the parents at my kids' school are so in awe of what we do!" she says.
Thanks so much to our stellar culinary team — you all continue to wow us every single day!
To start the conversation about what amazing things Dish Works can cook up for your brand, head here to set up an introductory call!