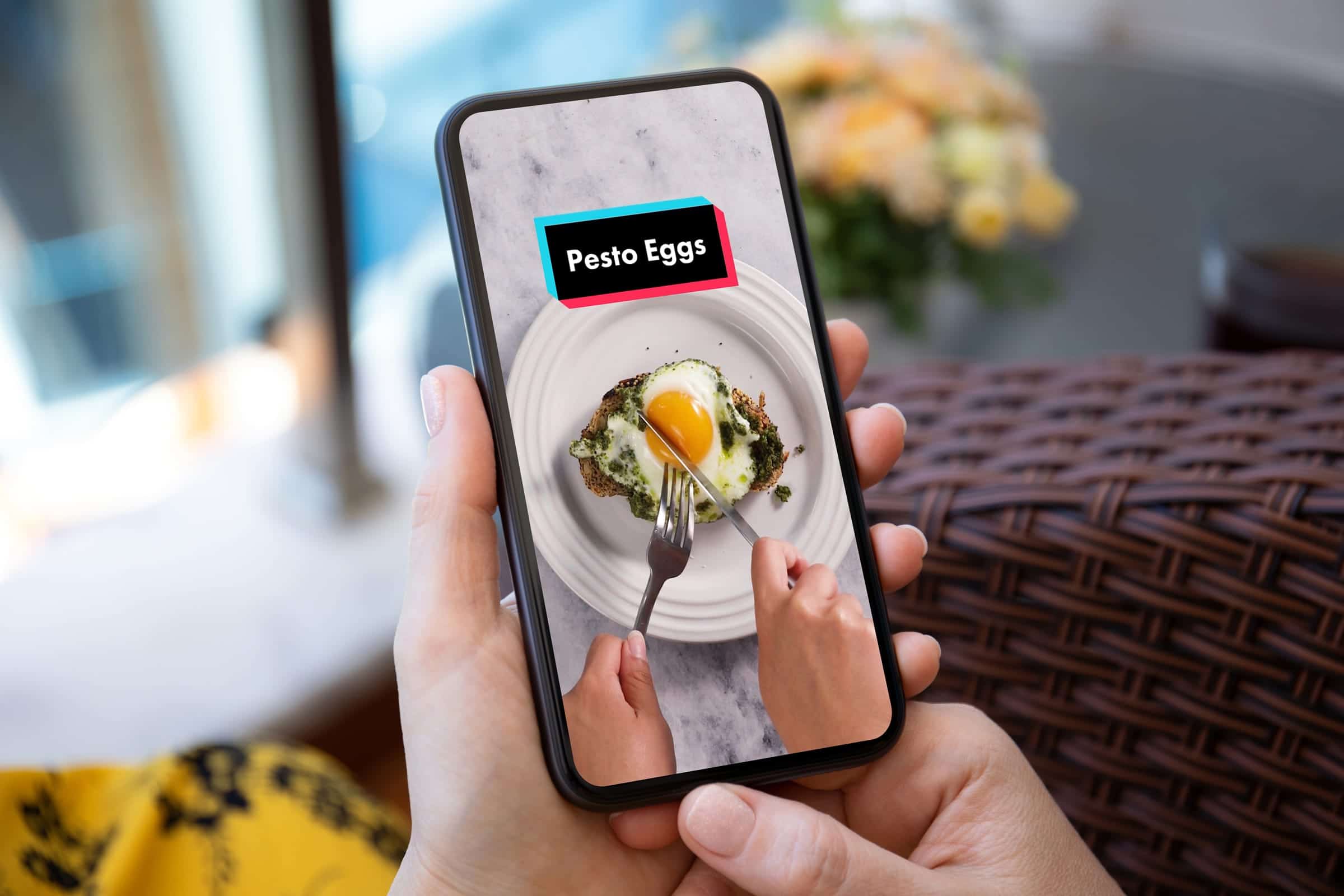 Visual media has always had a way of changing and evolving, and in the social media era, those changes are often driven by consumers. A massive shift that's taking place right now is the literal flip from horizontal to vertical video content. User-generated content was where the trend started, but there's no limit to where it can go. For savvy brands, this is a huge opportunity to reach and engage with fans and followers in ways that feel relatable and modern.
The proliferation of vertical videos started with platforms like Snapchat and Vine, but went mainstream with TikTok in 2020! The dance challenge, lip sync and recipe videos that ping-pong across the internet have made such a profound mark on pop culture that suddenly, it seems like vertical videos are everywhere.
Nearly every mainstream social platform is jumping on the vertical video train to compete and keep pace with Tiktok: There are Instagram Reels, Facebook Stories, YouTube Shorts and Pinterest Idea Pins. As food content experts, we engage with a lot of social media, and are firm believers that vertical videos are normal in everyday life of consumers.
Consider some seriously powerful numbers:
Over 75% (yes, two-thirds) of worldwide video viewing happens on a mobile device. As a society, the way we consume images has drastically changed, from the large horizontal screens in movie theaters and home televisions to our handheld devices. We take our entertainment everywhere we go, and often consume it in bite-size pieces.
People hold their phones vertically 94% of the time. Think about your own habits: do you turn your phone to watch videos? It just doesn't really happen! Because of the configurations of many smartphones and tablets, holding the phone upright makes the most sense for switching between multiple functions. It's also easier to hit the "record" button on a smartphone when it's held vertically, which is likely why so much user-generated content is produced in this format.
The mobile advertising platform MediaBrix found that 90% of vertically viewed videos had a higher completion rate than those watched horizontally. Put simply: Most vertical videos get watched all the way through.
With all of this in mind, and the simple fact that Tiktok and its competitors aren't going away any time soon, it's a no-brainer for brands to produce video content in vertical format. For brands that are invested in following social behavior and changing strategies to keep up, it's time to embrace vertical videos — and Dish Works can help!
We've been on top of the vertical video trend since it began, and we've been shooting and editing vertical videos for all of our food video services — recipe videos, cookware videos and appliance videos. As food content experts, we've seen first-hand the challenge that brands face in producing beautiful video for an ever-growing and ever-changing social landscape.
So this year we've proudly introduced our most affordable video options to help with your evolving social content strategy — we call them ReelToks — vertical videos made by our team of professional food content creators specifically for the vertical-only social video platforms. They come in a few flavors:
Influencer-Style ReelToks bring the authentic look-and-feel of DIY videos, but provide more creative control and more affordable content for brands. Captivating and accessible, these quick 30-second videos are narrated by in-house voiceovers for a fresh, personal aesthetic.
Editorial ReelToks are from-scratch food or drink videos produced by our team of experts, and they're perfectly tailored to your social media audience. Polished touches, like multiple camera angles and stop-motion details, give these Reeltoks a slightly more "pro" look than the Influencer-Style.
ReelTok Recuts use existing footage, which is formatted for vertical viewing by our team of talented editors. This is a stellar way to repurpose past media investments to meet the current moment.
Dish Works is here to empower your brand to stay on-trend with compelling content. Vertical video is less of a trend and more of a long-term shift in how content is consumed. Don't sleep on integrating this new format into your social media strategy! With Dish Works on your team, the transition to vertical video will be seamless, beautiful and effective.
To learn more, check out examples of our vertical videos and of our ReelTok video offerings! Ready to get started with Dish Works? Head here.