When we are given the opportunity to bring our clients' products and recipes to life on the screen, it is not a task that we take lightly. In every shot and frame of video, it's our goal to make the food look as beautiful and crave-worthy as possible. Just like models are coiffed and made up for fashion shoots, the Dish Works team styles the food on screen so that it is its most glamorous self in the content we create.
So how exactly do we do that? Food stylists have a whole bunch of tricks up their sleeves, and our team brings so much talent and creativity to the table.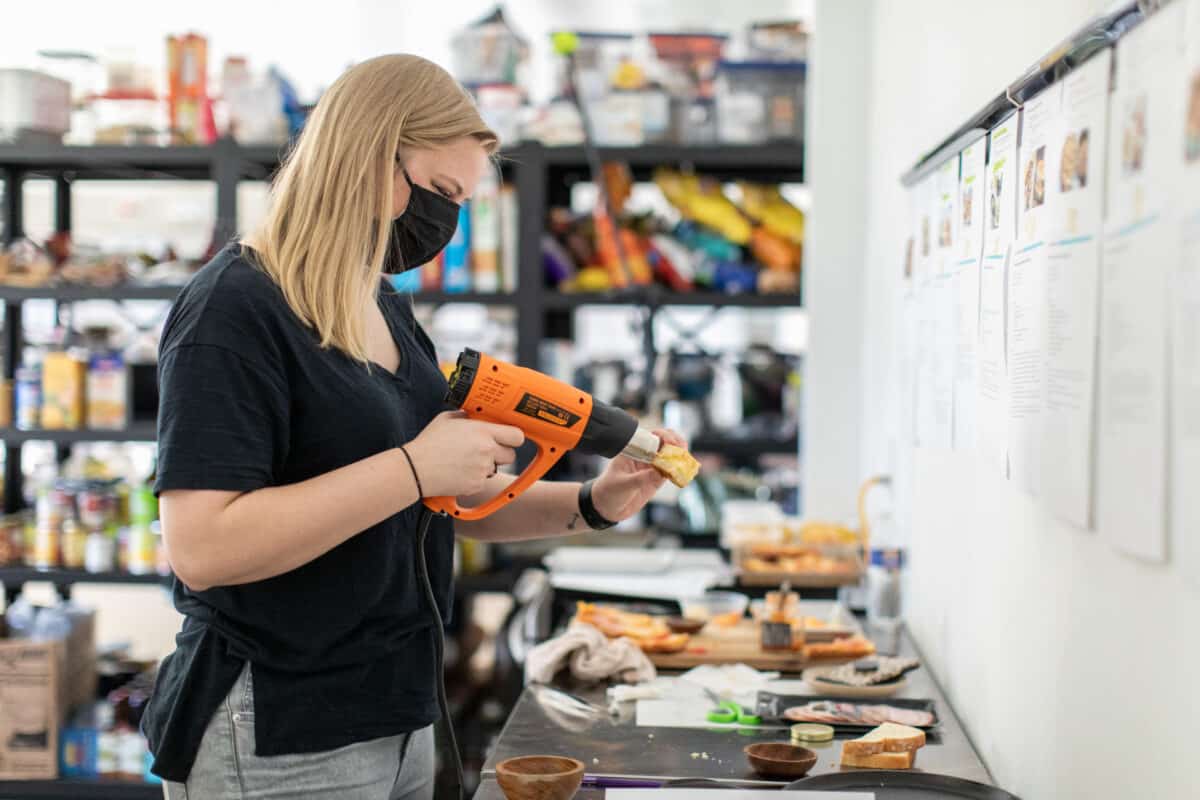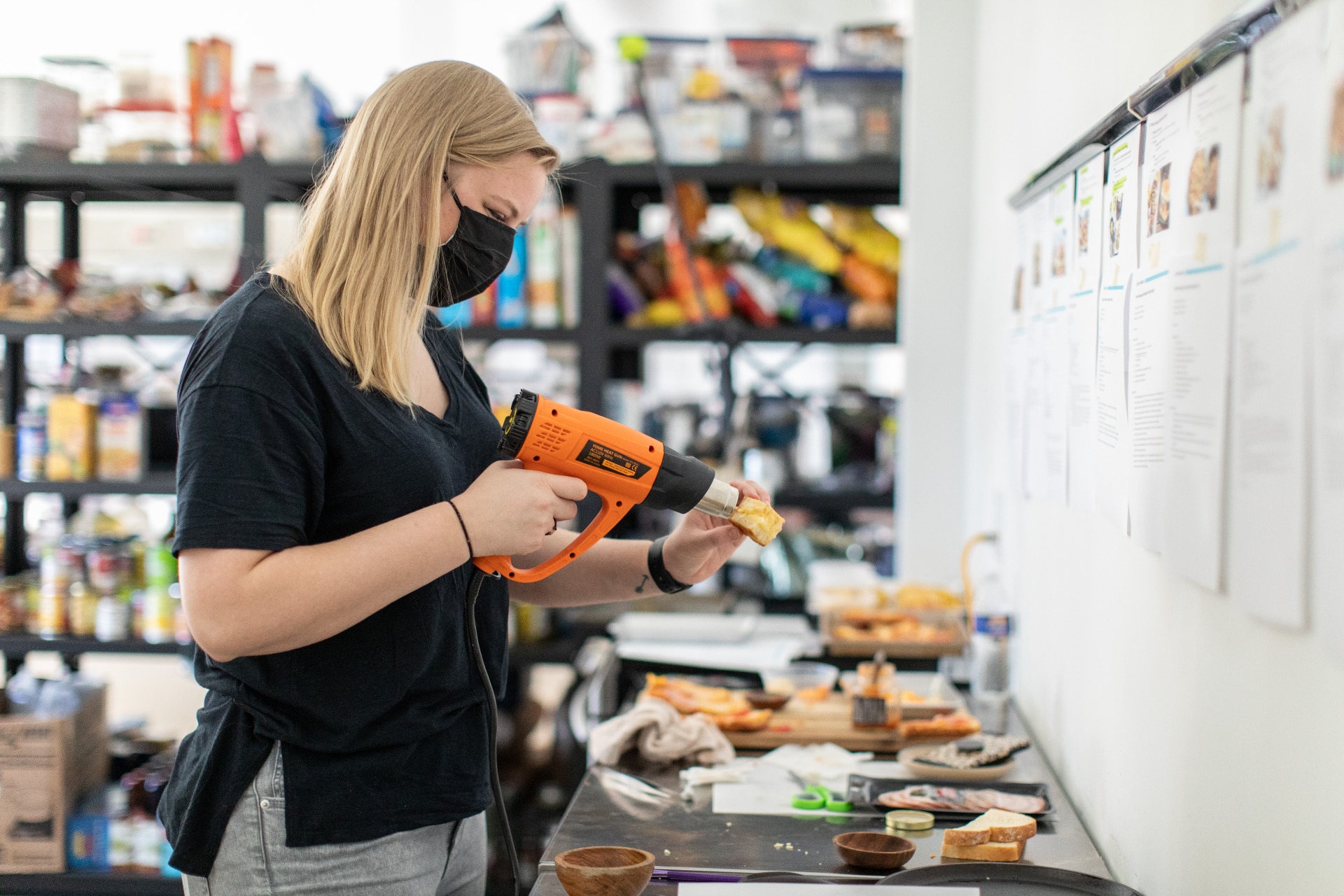 Our team has a diverse professional background, and with it, they bring a quilt of ideas and skills to work each day. A few of our team members have taken online food styling courses, like the series offered by Suzy Eaton; some went to culinary school where they learned plating and styling tricks; and others have been art directors/photographers in other industries and picked up styling techniques that are transferable to food. 
We thought it would be fun to share a few of our favorite food styling tools with you for a little peek behind the curtain of how we make some of our studio magic happen!
Heat Gun
Heat guns are small, handheld tools usually used for construction purposes, like removing wallpaper, loosening other types of adhesives and bending plastic. They can get very hot (like, upwards of 700 degrees Fahrenheit) and can provide a blast of heat in a very direct way.
In the studio, we repurpose the heat gun to melt cheese (when getting that sexy cheese pull shot is crucial) and for removing any waxiness that may appear on chocolate. The heat gun also comes in handy for melting chocolate to make cookies look extra-luscious or for melting butter on corn on the cob, mashed potatoes, etc.
Also, when we need to brown something, we often use a mini torch, but sometimes if we are just going for a subtle toasted look, the torch is too intense. In those cases, we use the heat gun to add a touch of bronze.
There is one more fun way that we use the heat gun: If we're shooting a poolside scene and want to create waves in the water, we use the heat gun to blow on the water, adding motion and texture.
Tweezers
Tweezers are nothing new in professional kitchens. Surely you've seen cooking shows or chefs in restaurants using tweezers to finish plating with tiny, delicate garnishes. Similar to how tongs are an extension of the hands, tweezers are an extension of the fingers, and can move with deftness, dexterity and precision.
In our studio, we use tweezers all the time! They come in handy doing anything, from placing an item perfectly on a plate, to carefully layering ingredients into a sandwich. Sometimes we even use them to reposition a flavor cue (like a peppercorn or sprig of fresh herbs) to perfect a shot's composition, or use them to pick up stray crumbs.
Fake Ice Cream
A big part of our ethos at Dish Works is to use and make as much edible food as possible for our shoots. To be honest, that's a pretty rare thing in our field. A lot of food stylists use chemicals and non-edible substances to style food and products (a popular one people know about is using white glue in place of milk when shooting cereal).
But because we're a full-fledged food content studio, with recipe developers and a test kitchen, our job is to write and test delicious recipes and then make them look amazing. We take pride in accurately portraying the finished recipes we develop with real food and reduce food waste by making food that we can eat once the shoot is complete.
One minor exception to this rule is the fake ice cream that we use. Technically, our fake ice cream is edible; it's a proprietary recipe that we make in-house consisting of icing, powdered sugar, cornstarch and flour. It looks amazing on camera, has a nice texture and is reusable!
If we were developing an ice cream recipe for a client, we would never use fake ice cream. But we do occasionally use it as an accessory, like to make a piece of pie or cake a la mode. On set, under the hot lights, real ice cream melts very quickly, so fake ice cream helps to lessen that urgency.
Fake Ice 
Another of the few non-edible food styling things we rely on is fake ice. We always want cold beverages to look frosty and refreshing in the images, and real ice just melts too quickly.
There are three kinds of fake ice that we use: One is a hard plastic square ice cube; another one is prop ice, a silicone-based, squishy-but-firm clear brick that breaks into natural-looking crushed iced pieces. It looks like ice that would come out of a bag of ice or the fridge. We reuse it all the time — in fact, we bought one block over a year ago and are still using it!
We also sometimes use fake ice crystals, which are a powdered product that plump up when water is added to create little gelatinous crystals. We add those to the exterior of cans, bottles or other package props to enhance their "super-chilled" appearance.
Paint Brush
This common arts-and-crafts item (often found in a set of watercolors) is such a helpful tool on set. Typically, we use tiny paint brushes to add olive or vegetable oil on something to add a little sheen or gloss. Occasionally, we use them to paint fruit with food coloring to look a bit more ripe. Paint brushes are also great for painting a bit of maraschino cherry juice onto steak to make it look nice and medium rare!
Electric Charcoal Starter 
Usually, electric charcoal starters are used to light up charcoals in a grill without lighter fluid, but they have another secret superpower: they create perfect grill lines on food! Because we can't use real grills indoors in our studio, this is a clever, helpful solution when we're going for that glorious, peak-summer BBQ look.
These are just a few of the tricks we use to make picture-perfect food that looks impossibly delicious on camera and remains edible! We have plenty more, but we can't reveal all of our secrets 😉. If you're looking for professional culinary content to take your brand to the next level or engage with your fans on social media in meaningful ways, reach out to get the conversation started!