There are many skills that the Dish Works team uses to make our clients' products sparkle and shine on camera. Our photography and video crew meticulously design lighting to achieve the looks that match our clients' creative briefs, and our culinary team combines their decades of professional kitchen experience to develop every dish to perfection. Our art directors and stylists make everything in a shot's frame look stunning (using a few food styling hacks along the way).
But without the right props — like linens, dishes and backgrounds — all of this hard work would fall flat. That's why we've spent years building up the Dish Works prop closet, which has reached epic proportions. Our founder, Mary Bigham, is a lifelong vintage, thrift and antique rummager and has amassed a jaw-dropping collection of culinary props — both new and secondhand — that bring layers of color and texture to our clients' projects.
Armed with this glorious treasure trove, we can achieve any aesthetic or look that our clients request. Whether it's sleek and minimalist, midcentury modern, or playful and whimsical, the Dish Works prop closet makes it all possible. And, our art directors always dialogue with our clients about what styles match their brand and their marketing goals before pulling props!
Here's a little tour through our props collection; if you love housewares, then buckle up, as this is going to be a real treat!
Dishes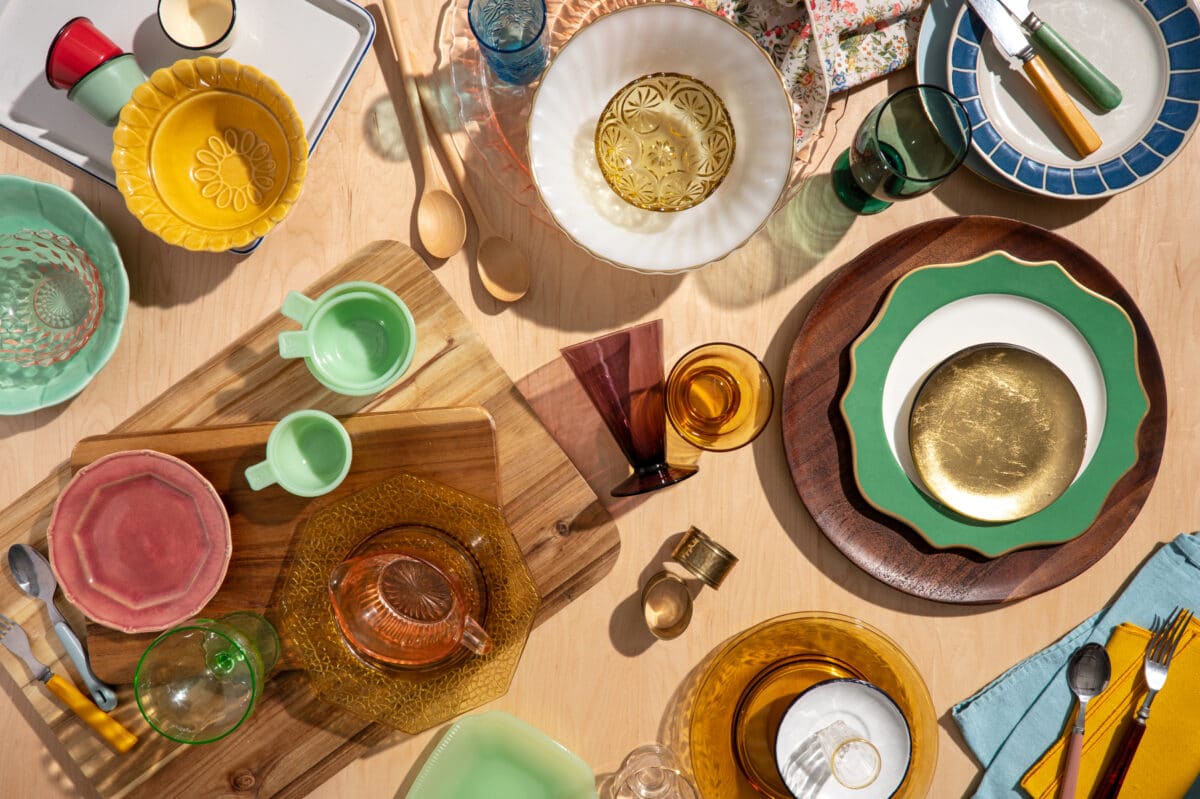 Cute little saucers, deep-bellied pasta bowls, antique porcelain plates … we're big fans of dishes here at Dish Works. There is no type of dish unrepresented here! Stacked neatly on the prop closet shelves you'll find dishes in every color of the rainbow and in every style imaginable. We've got bright, casual, geometric dishes, ideal for kid-related shoots; handmade pottery for farmhouse looks; and elegant, pure white dishes that mimic the style at fine dining restaurants. 
Serving Dishes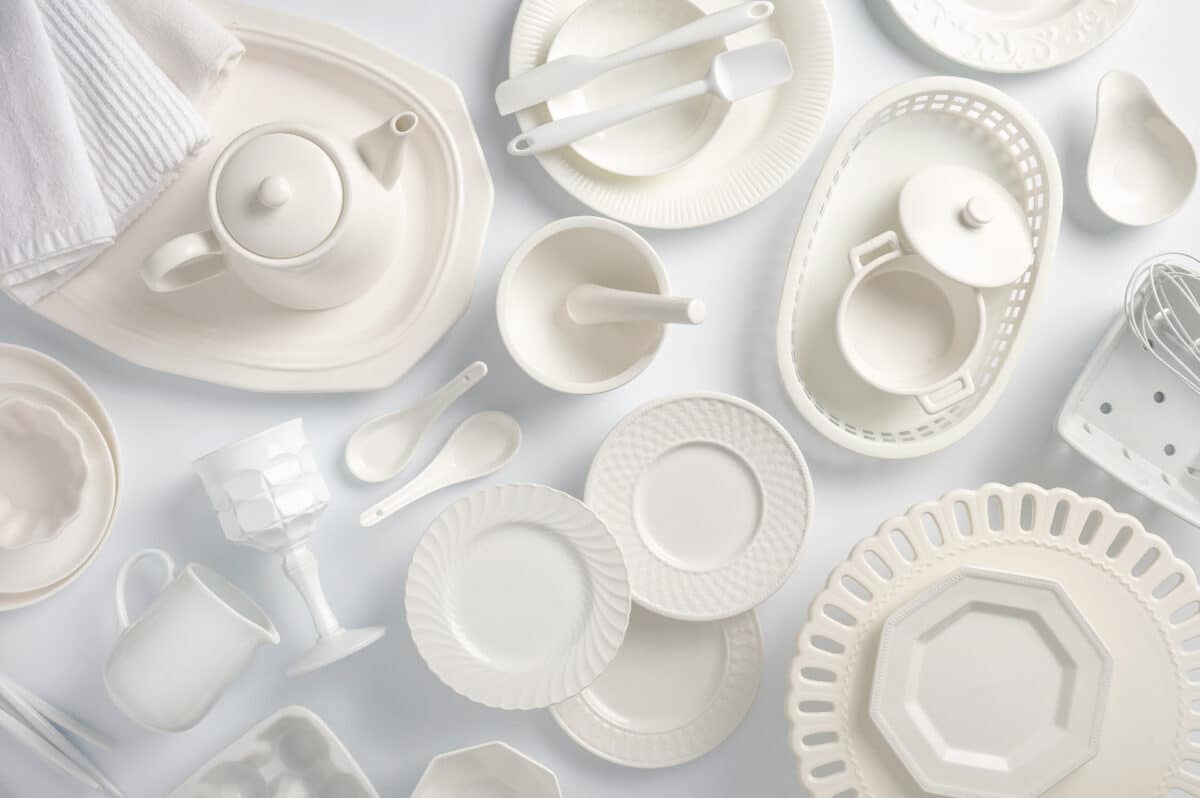 So many of our clients want content that looks like it's being served at dinner parties or family meals. For this, we're prepared with serving dishes of all stripes (some even have stripes!). Leafy greens look pretty piled in vintage wooden salad bowls, and holiday-inspired meals pop on porcelain serving platters that call to mind "the good china."
For cheese and charcuterie boards (and all the other types of boards that just won't stop trending on social), we've got stacks and stacks of wooden cutting boards and trays. Some trays are beautifully distressed and worn, while others are shiny and new. Other highlights include an entire shelf of cake stands, glass cloches, salad tongs, wooden serving spoons, gravy boats and so much more!
Flatware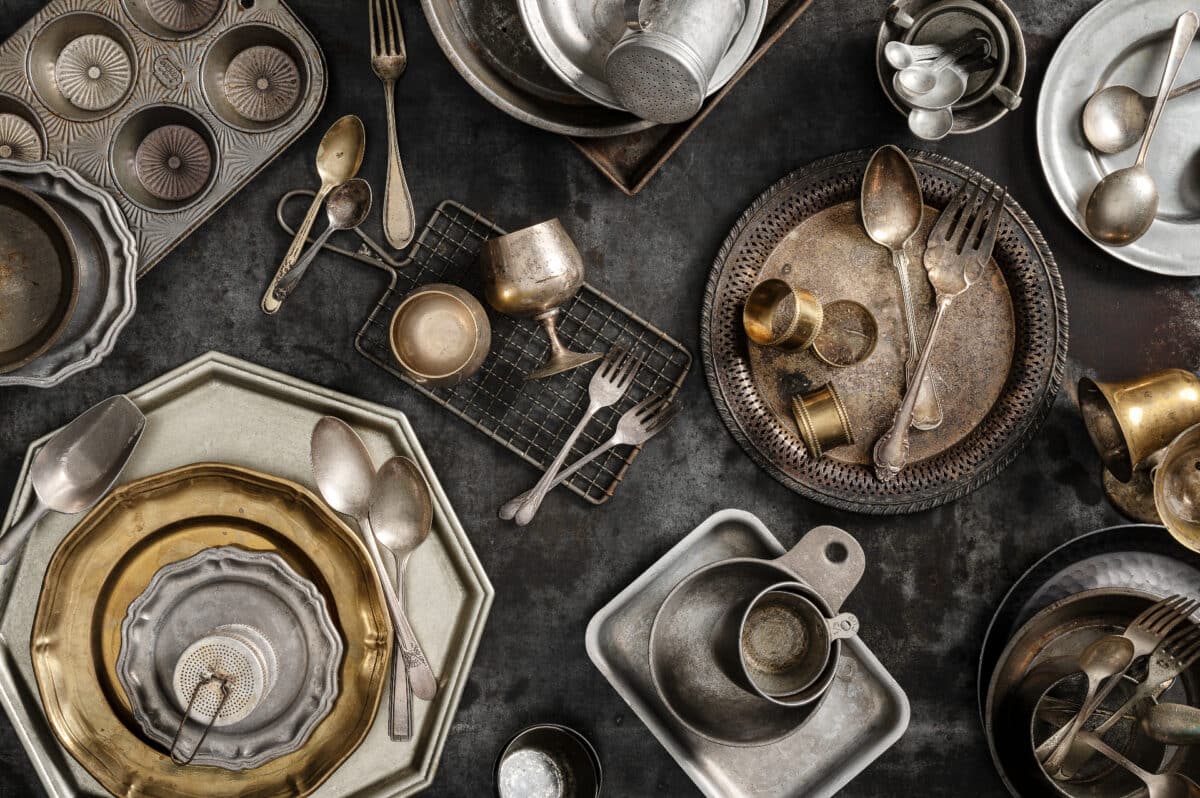 Each detail in the frame has a huge outcome on the full effect. It's truly amazing how one fork or spoon can change the entire look of a photo or video! That's why we have thousands of flatware options to choose from, ranging from on-trend pieces like matte gold and silverware with colorful handles, to ornate filigree silverware, to hand painted chopsticks and everything in between. Don't even get us started on cheese knives! They have their own special drawer.
Cookware & Kitchen Tools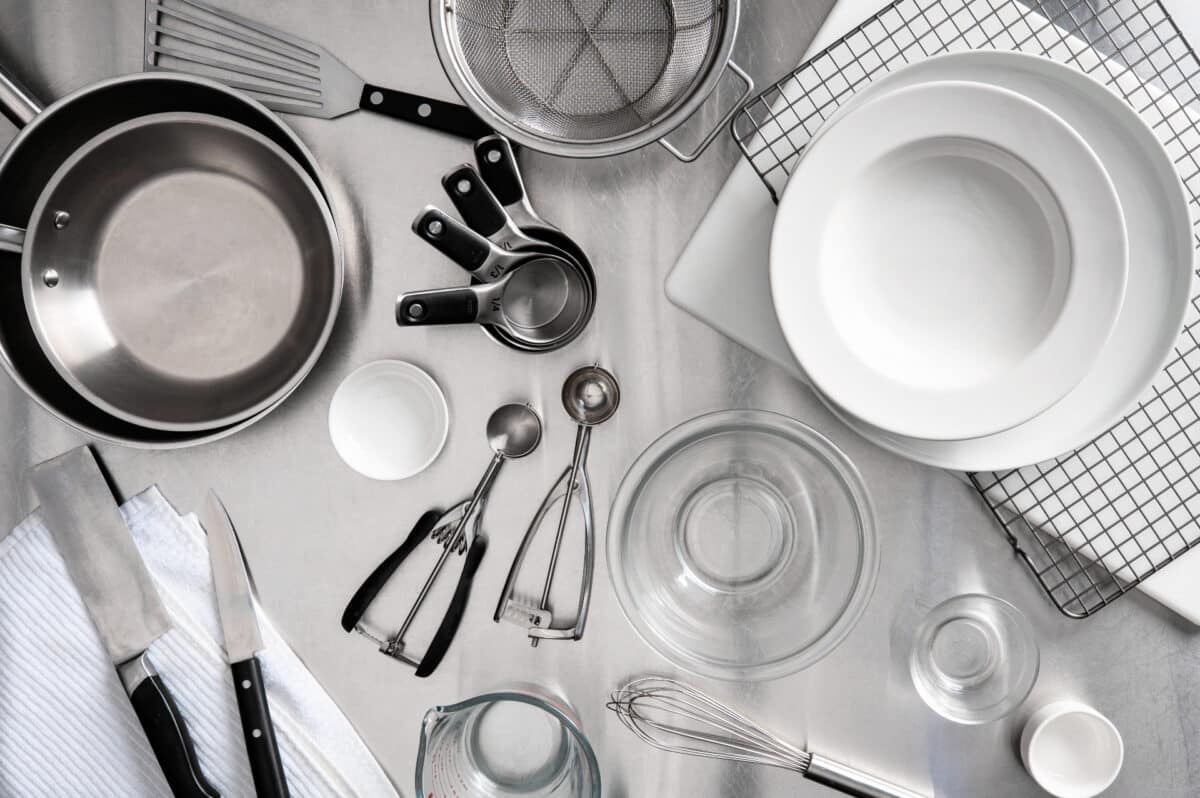 For many of our clients, the recipe videos we develop for them are about demonstrating processes and techniques, as well as showing off the finished product. To create these kitchen scenes, we pull from our extensive collection of cookware and kitchen tools. This includes mixing bowls in stainless steel and colorful plastic, all manner of cutting boards and knives, measuring spoons and cups, whisks, tongs, spatulas, colanders, juicers, pinch pots, peppermills and nearly anything else you can imagine finding in a very well-stocked kitchen store.
Glassware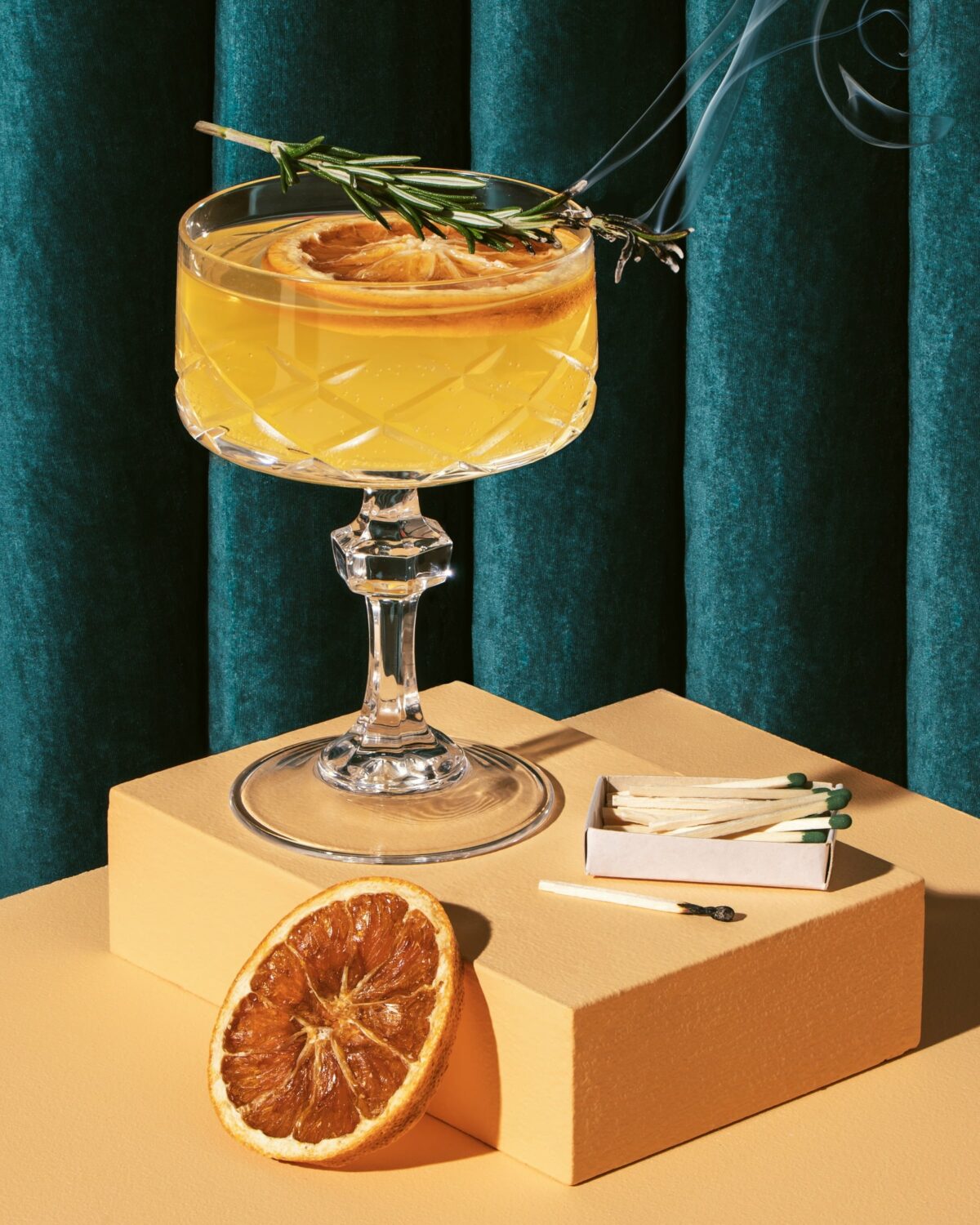 This is the section of our props closet that usually gets this biggest "oohs and aahs" from visitors to our studio. If you've ever bought a charming cocktail glass or vintage Collins glass that you definitely didn't need — but just had to have — then our glassware collection will be indeed quite thrilling! You'll find rows and rows of all of the glassware that one would or could ever need: shot glasses and little sake cups; every type of wine glass under the sun; champagne flutes and cocktail coupes; margarita and martini glasses; all of the beer glasses, including tulip glasses, pints and mugs; and juice, water and iced tea glasses in a wide range of sizes and colors.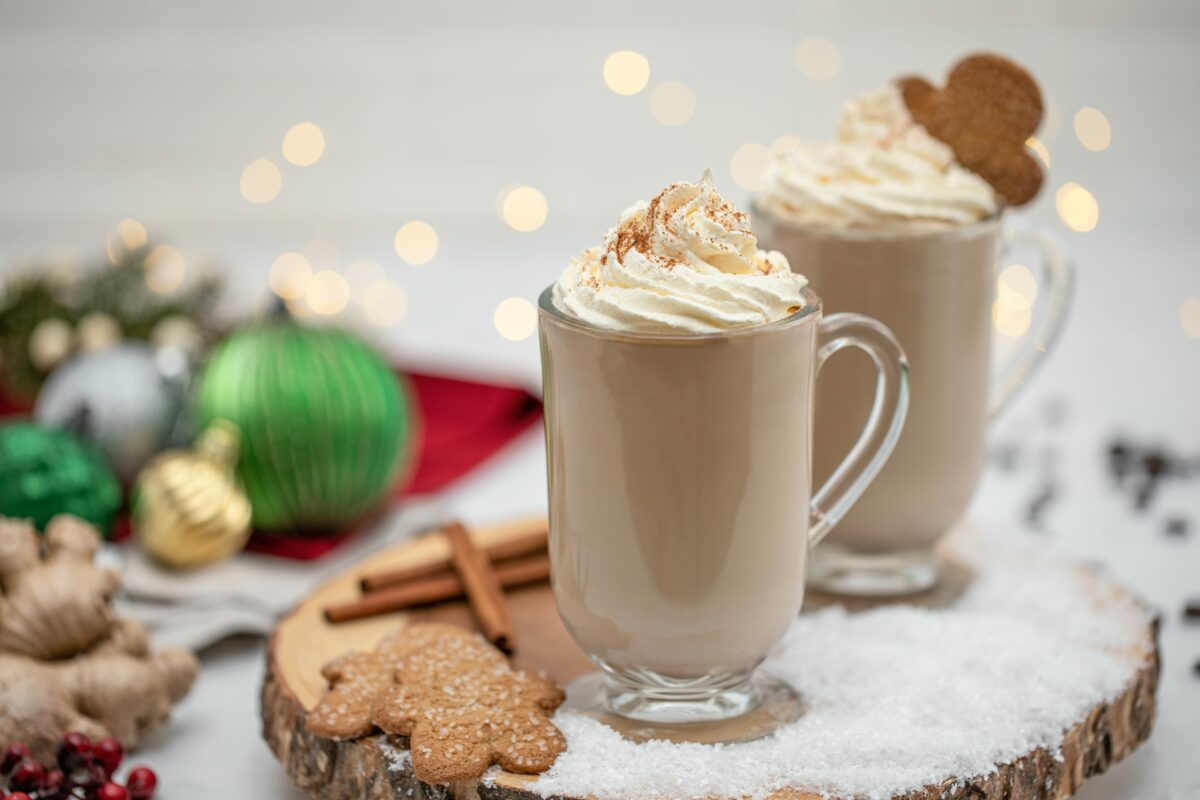 For hot drinks, we're ready to rock everything from dainty tea sets to cafe-level coffee services. To complete the look, we've got barware like cocktail shakers and strainers, straws and cocktail picks, as well as pitchers, stirring spoons and so much more.
Linens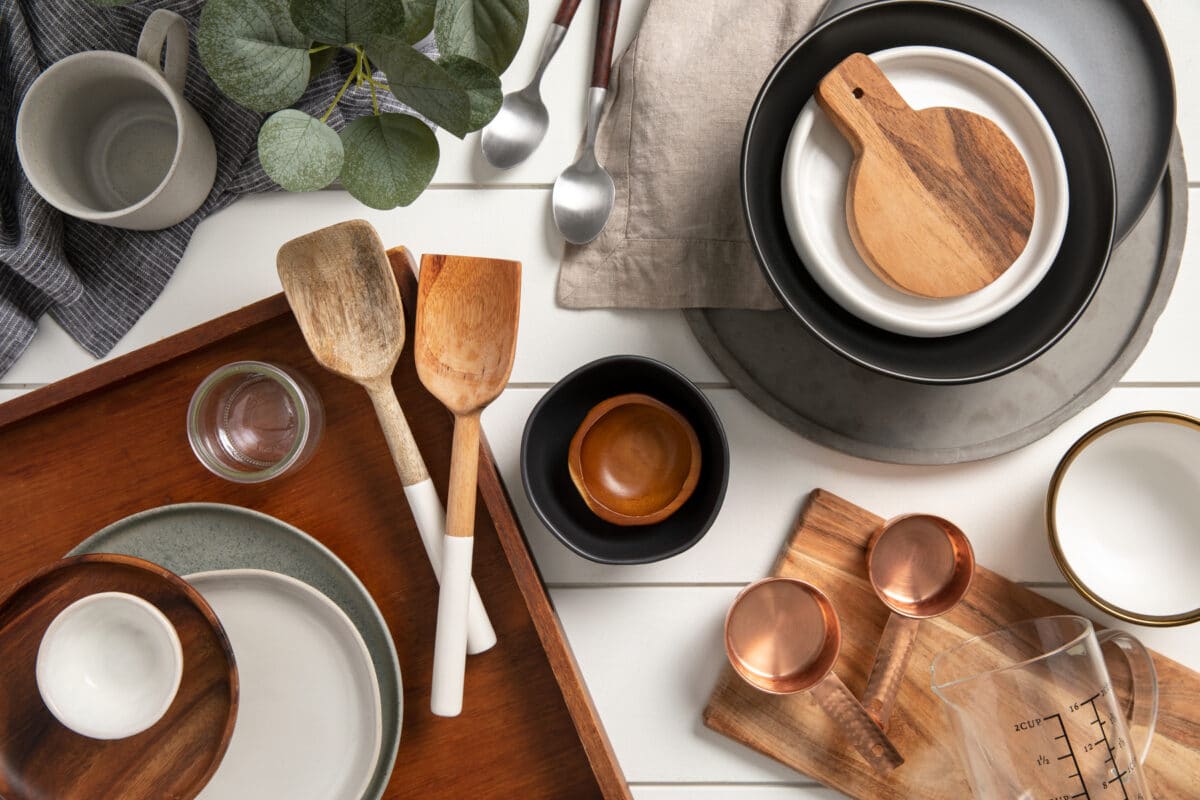 Cloth linens, like napkins, place mats, table runners and tablecloths, are a fun way to incorporate colors and textures into a shoot. Neatly folded in our props closet, you'll find stacks and stacks of linens to explore. We have a great range of fabrics, too: neutrals, solid colors, antique lace and patterns both subtle and bold. The linens are always cleaned and pressed before they go on camera so they look crisp and perfect.
Backdrops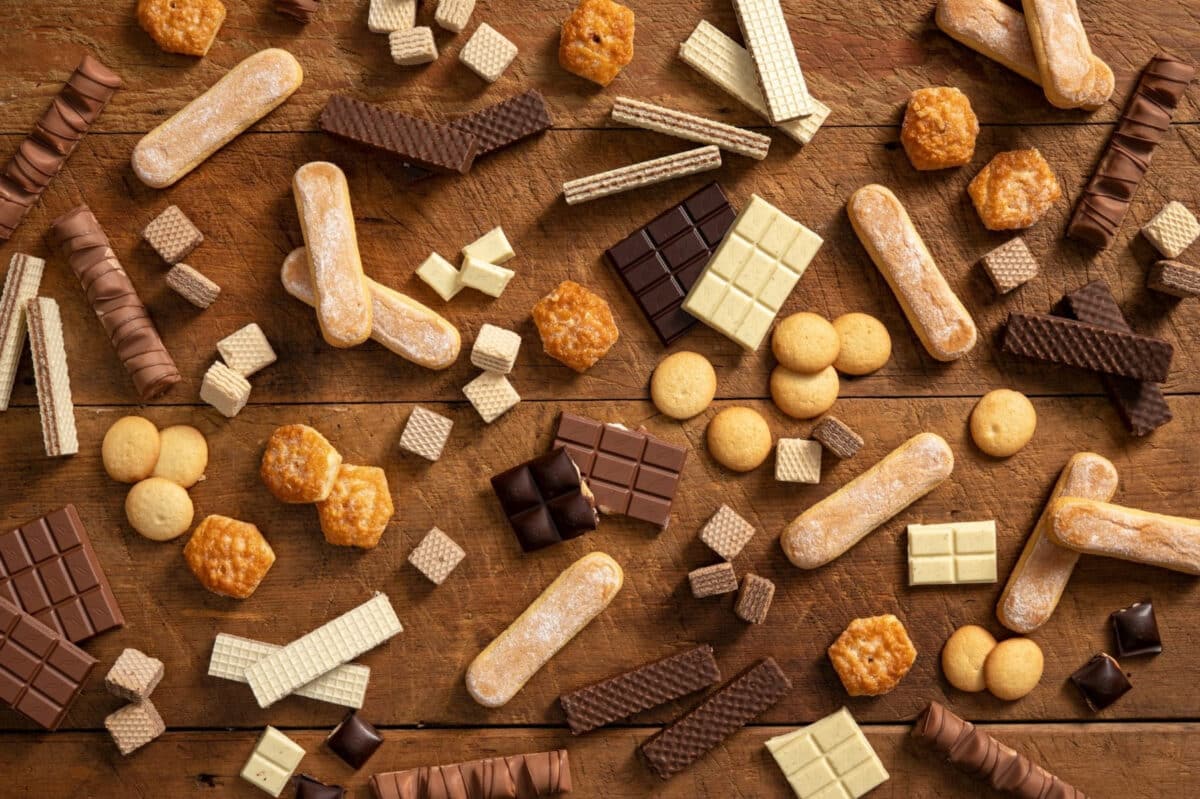 From subway tile to heirloom butcher block to contemporary marble, our backdrops collection lets us create whatever type of background our clients desire. Many of our wooden backdrops are salvaged from Amish farm houses in Lancaster County, where we're based! Others are repurposed and made in-house.
Which gems from the Dish Works props collection are going to make your brand's products look its best on camera? Let's get the conversation started here!