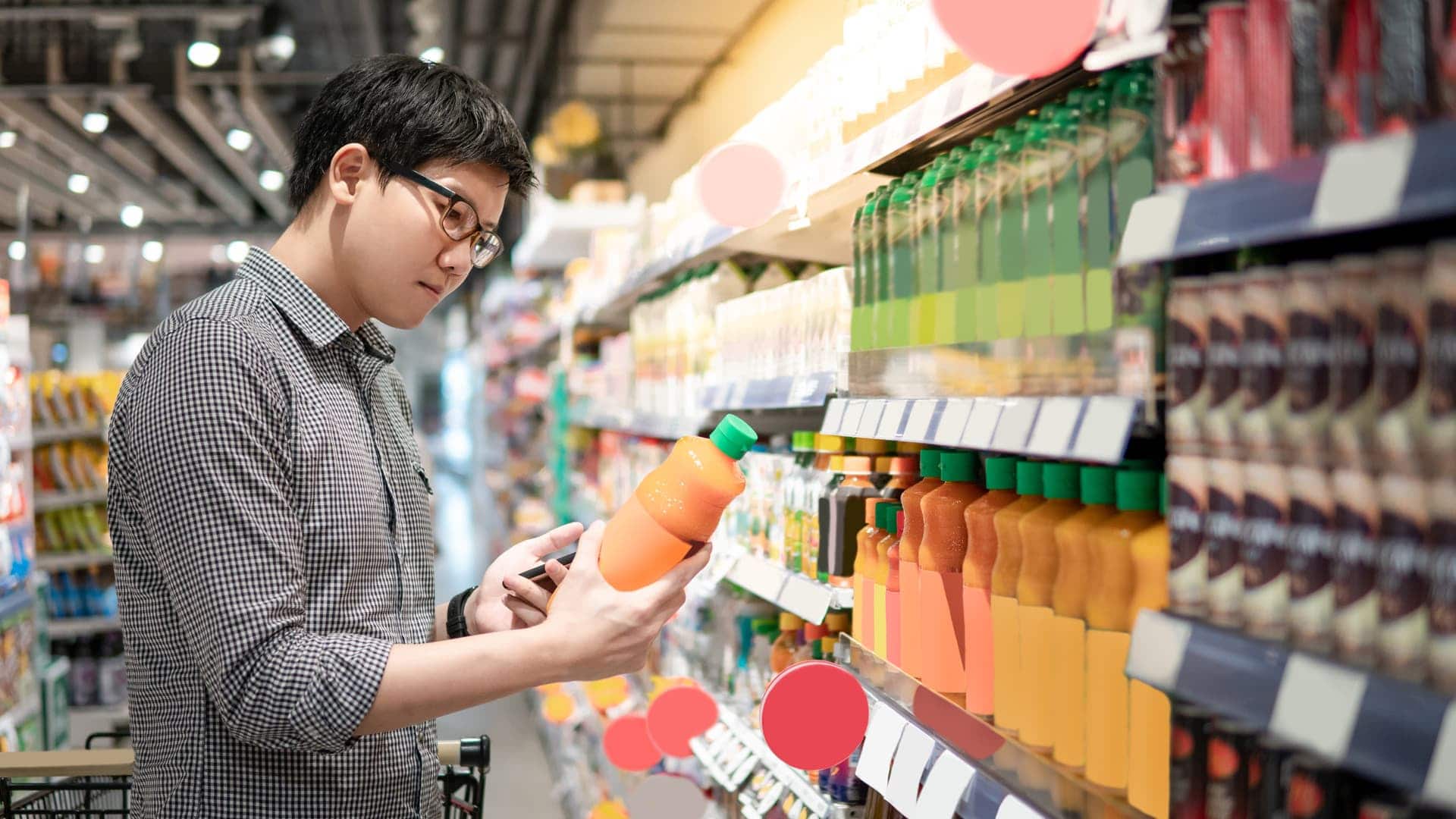 Many grocery stores offer clients in-store magazines or free home subscriptions for being a loyalty card member. These are great ways to capture eyes in the traditional sense, but are they capturing the growing online market?
According to Supermarket News, a Coresight study shows "the share of U.S. consumers who purchased groceries online in the past year has jumped from less than a quarter to well over a third."
Coresight founder and CEO Deborah Weinswig continues, "The potential to grow the online market lies in the 21 percent who say they don't know if they will buy groceries online in the next year."
Although giants Amazon and Walmart lead the pack in this area, there's plenty of room for local and national grocery chains — of every size — to capitalize on shoppers' needs for convenience and, in many cases, home delivery.
Many grocers already know the importance of the in-person experience for all types of shoppers: well-trained staff, great customer service, clear signage, convenient pickup, etc. Some grocers have also carefully thought through how to make their customers feel like VIPs during their online shopping experiences, too, using compelling online content to drive sales. And this online content strategy is something that all types of retailers and brands can use to their advantage.
Consider Your Customers
When approaching your online strategy, it's important to think about the holistic experience of your online customers, just like you do about their in-store experience. Guide your customers (whether they're in-store or online) through the buying process, from initial interest to final sale.
If you're managing a grocery or retail store and investing in new signage, displays, layout and uniforms in your stores, don't forget to pay attention to the same level of detail online. You can do that by providing beautiful photos, contextually-relevant videos and tips, and inspiring recipes that work together to make the online shopping experience more pleasant. Don't just sell your customers food, show them how the food they're buying can be used at its best!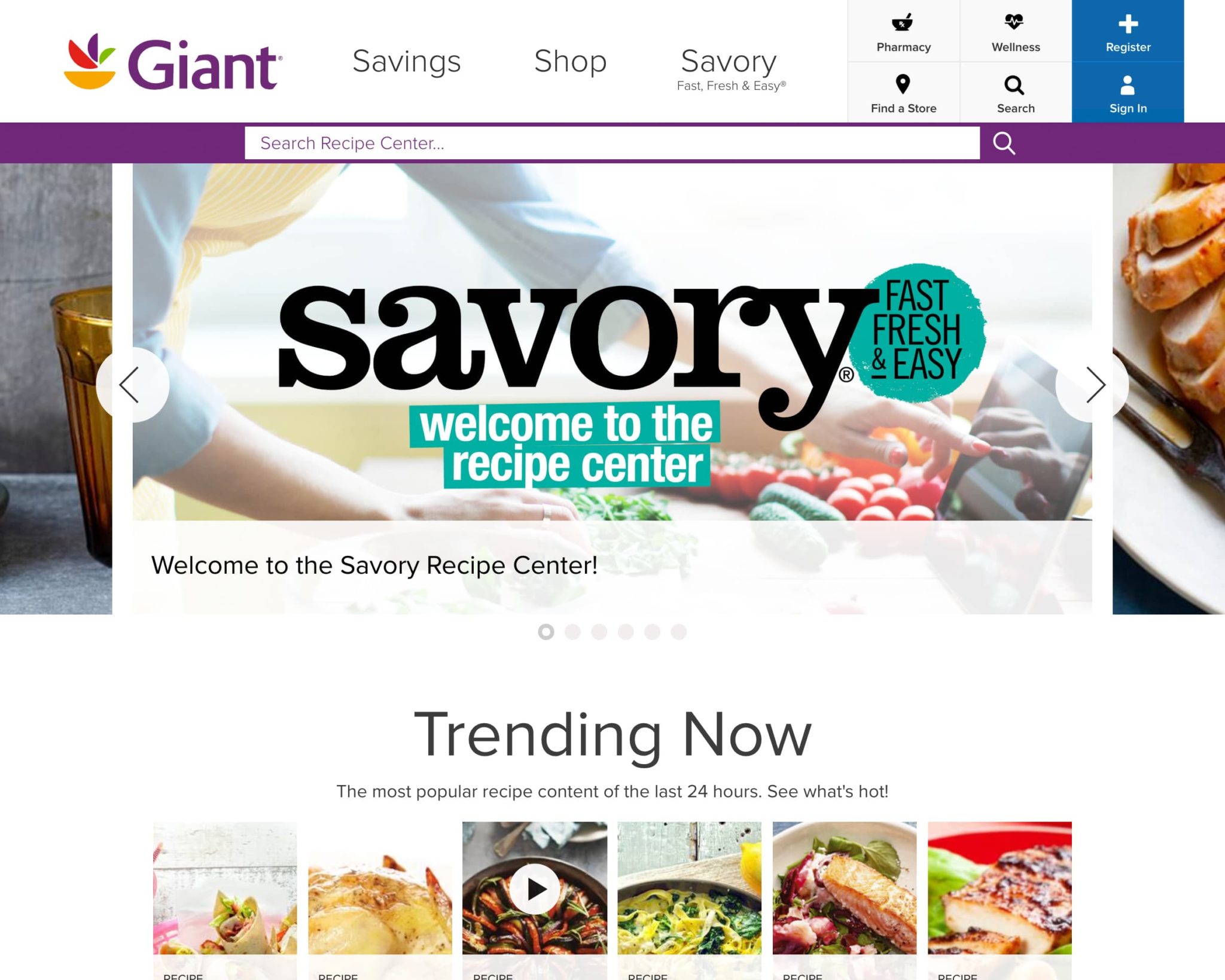 Here's How It's Done: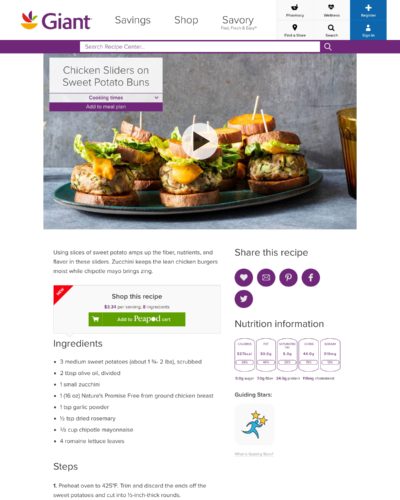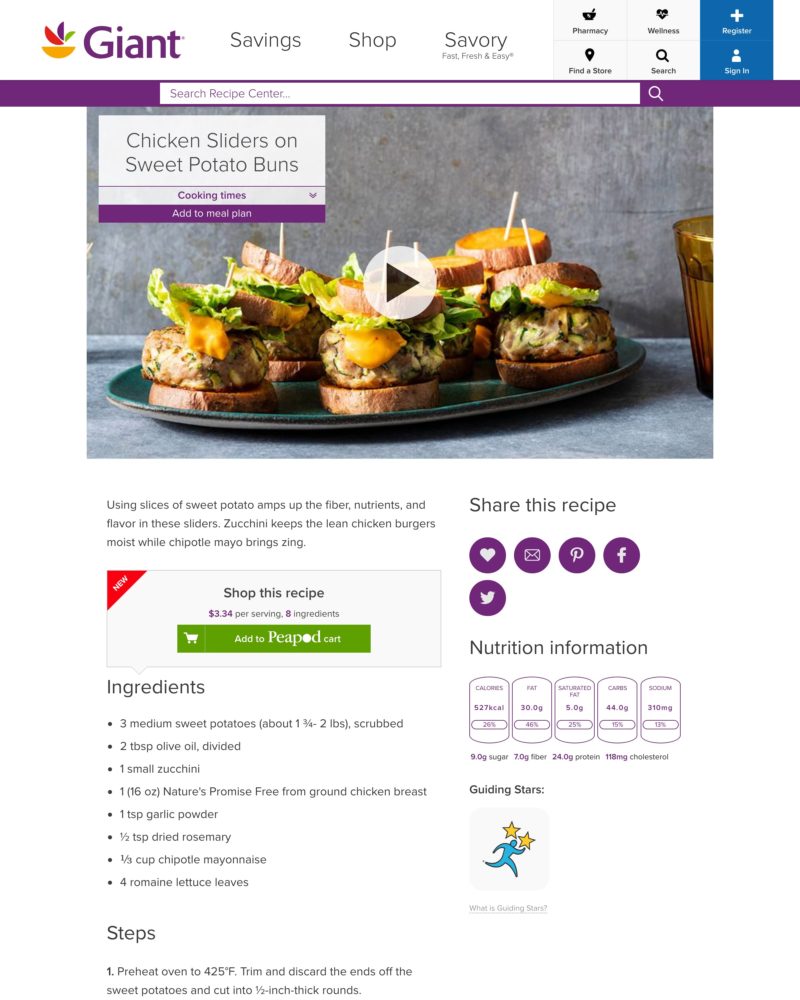 One grocery store chain focusing on its customers' experiences, both in store and online, and translating its in-store marketing strategy to the online environment is Giant, thanks to its Savory magazine. The print publication is packed with recipes, quick meals (think five ingredients or less ready in under 30 — or even 15! — minutes), seasonal hacks, ask the experts and more. All of that with no mention of Giant; just cleverly inserted "ads" similar to those from other brands.
Giant also brings the Savory brand to the web as a full-fledged food publication and "recipe center" and offers consumers its most popular recipe content, seasonal recipes, favorite recipes, current articles and access to past issues. It's a mix of recipes with gorgeous photography and how-to videos that includes nutrition information, in addition to cooking times, calories, ingredients and steps. This is all backed up with a strong social media presence, especially on Instagram.
How does this benefit Giant as well as its customers? Giant's authoritative food and drink content ties directly into their other customer marketing channels. Customers can add recipes to their meal plan on the Giant loyalty site. Those who are not yet loyalty card holders are prompted to register online. Customers may also "shop this recipe" by adding it to a Peapod cart, which shows the cost per serving and number of ingredients. The Peapod cart prompts for login or registration, and then shows the customer the total cost for standard and premium ingredients. Customers get what they want, and Giant reaps the sales rewards.
It's Your Turn: What's Your Online Marketing Strategy?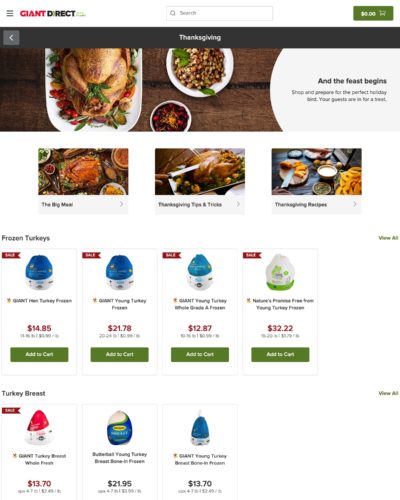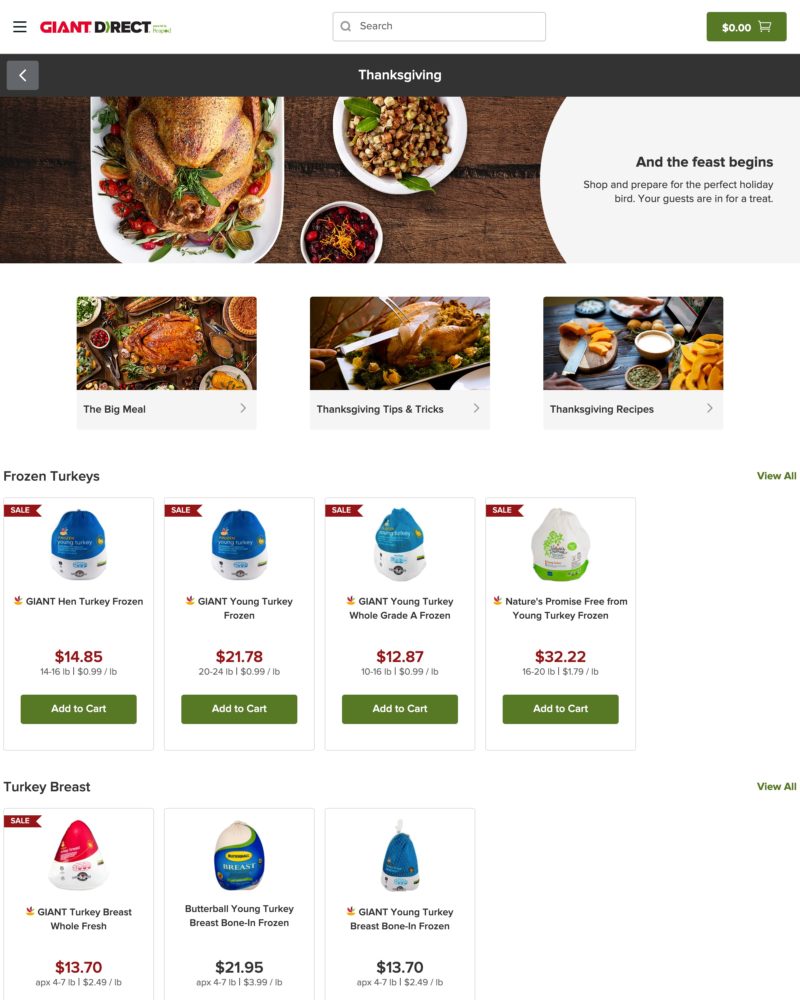 Is your customers' online experience as engaging as their experience in your stores? Your customers used to stop and ask the butcher for advice; now, they're looking for those tips and tricks online. Will they find this information from you? Or from your competition?
Marketing to the savvy online shopper has morphed into providing fun, entertaining and educational content: recipes, recipe videos, photography and blogs. Grocery store customers are looking for easy ways to plan a week of meals, and online resources like Savory are answering the call.
Partner With Content Pros to Create Better Online Customer Experiences
Acquiring eye-catching and targeted recipes, recipe videos, photography and blogs isn't complicated when you work with culinary pros who excel in this space. Partner with, and rely on, the Dish Works team. We work with grocers and other top brands, and we'd love to work with you!
Dish Works is a one-stop content shop comprised of food-loving professionals who are dedicated to making culinary brands shine. We excel at creating food-and-drink content for top brands and agencies. See how our recipe test kitchen, food-and-drink video studio, food-and-drink photography studio, and animated gifs services, plus our writing and design center, are all helping brands put their best faces forward (and also helping them to grow!).
Check out our testimonials and give us a shout to learn more.