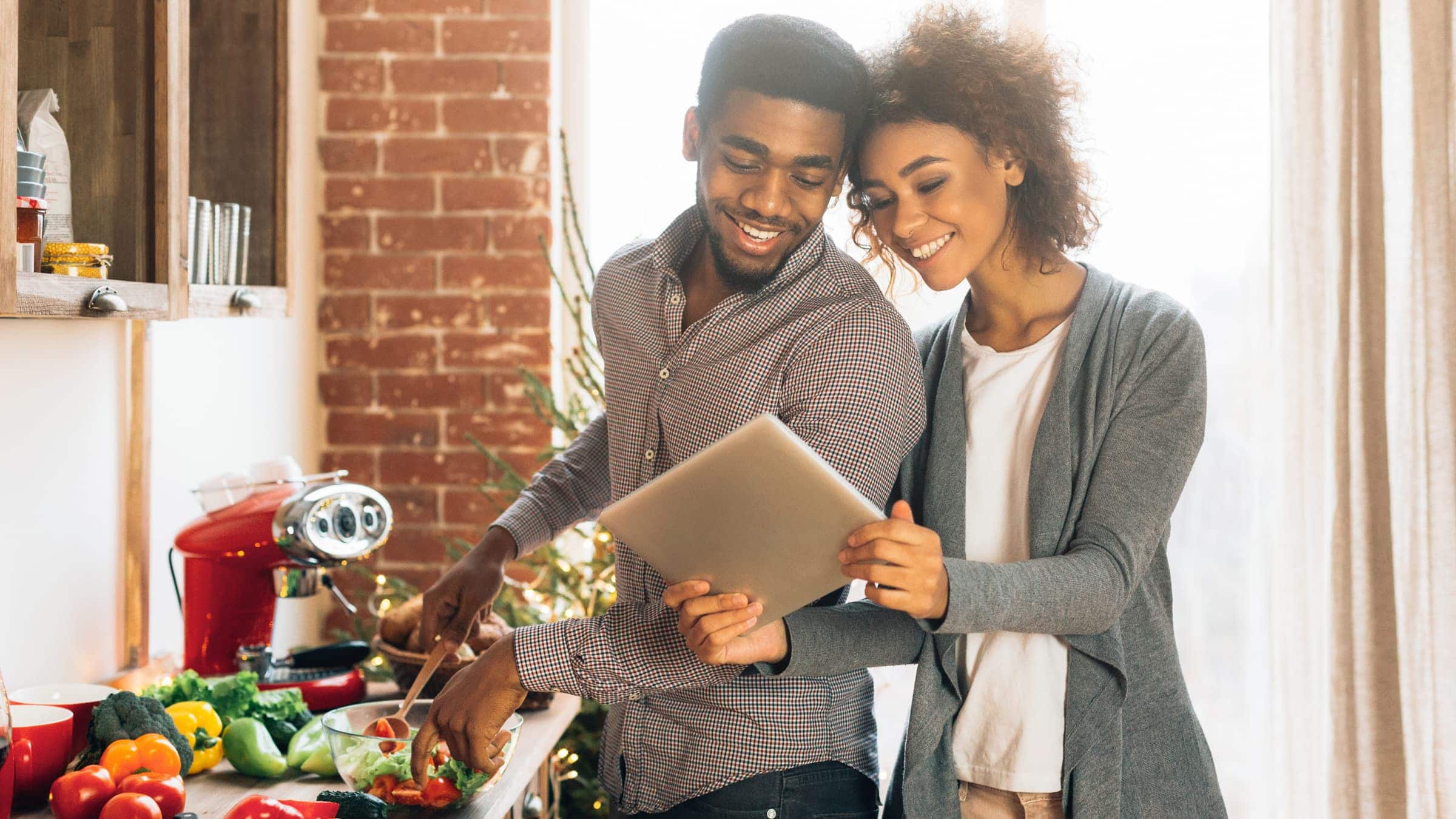 Food brands interested in showing their culinary prowess are winning the game with largely unbranded consumer-facing websites plus social media. This "unbranding" is a smart move because home cooks usually don't want to be "sold to" when they're trying to figure out what to make for dinner, or how to host a holiday gathering, or when they're finding the steps to make a delicious (but easy) dessert. Rather, home cooks crave custom culinary content, overhead photos and video recipes illustrating the how-to steps, and they're looking for the opportunity to become part of a community of like-minded home cooks and food lovers.
Check out these three brands that are killing it with recipe sites:
Tablespoon by General Mills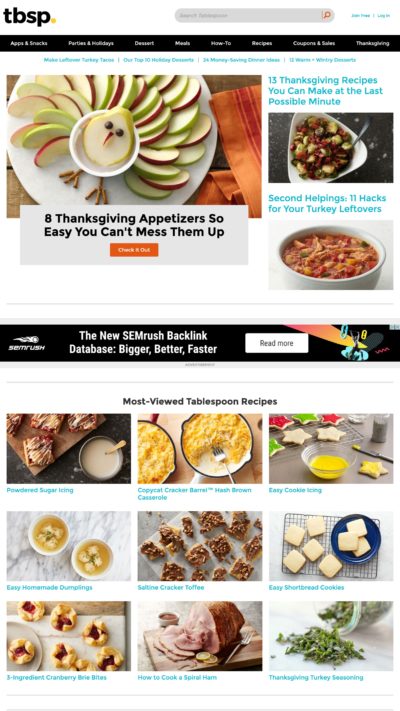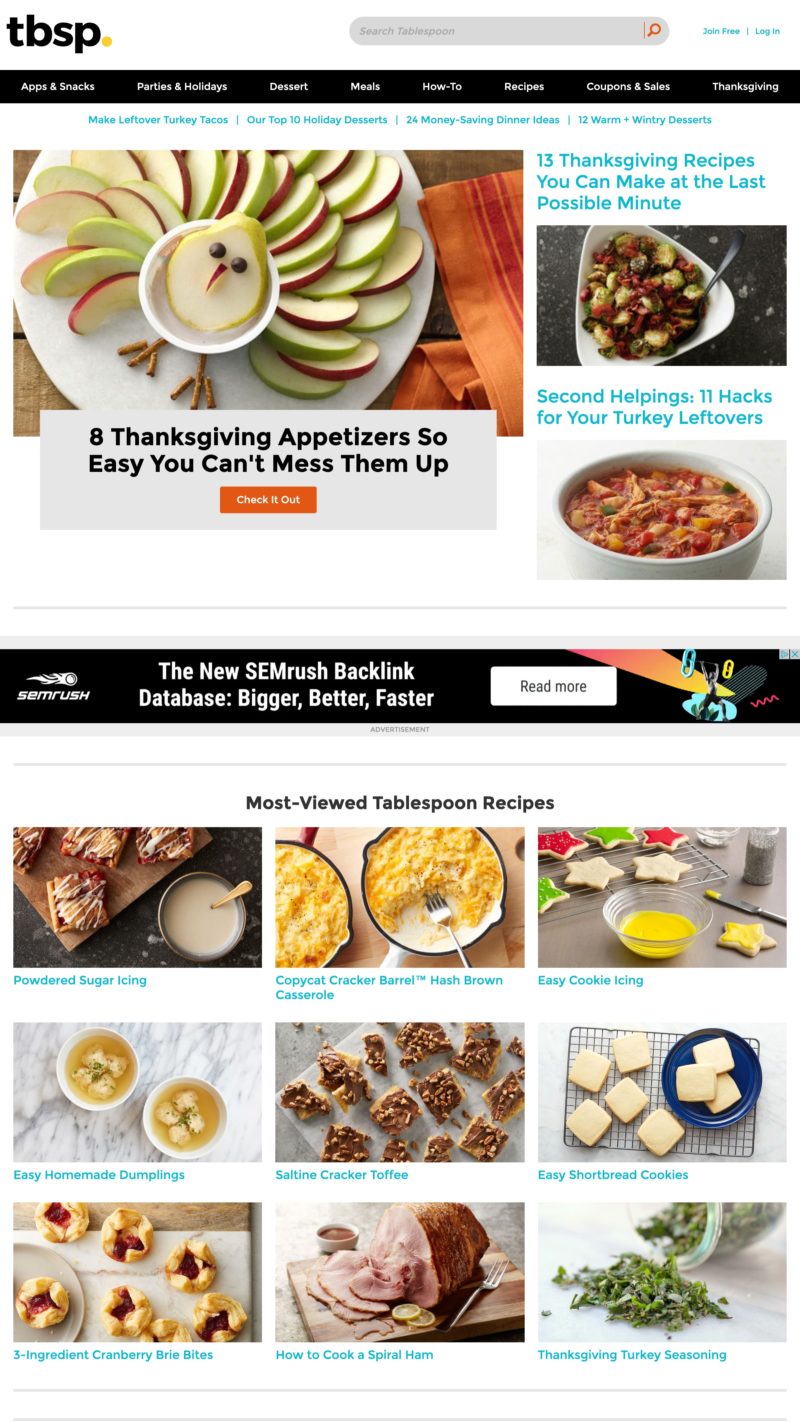 Erin Anderson, the interactive marketing manager at General Mills who oversees Tablespoon for its CPG (consumer products group), explains why unbranded content is so valuable to brands of all sizes. In a Forbes interview she said, "Reach and engagement are at the heart of our metrics. We use engagement numbers to gauge the popularity of our content with the understanding that superior content may indirectly link to sales."
Clearly, Tablespoon's Millennial-focused — but user-friendly for any home cook — collection of recipe hacks, copycat (restaurant-style!) recipes, new takes on old favorites and classic recipes is working. In its first year, tbsp. (Tablespoon's account on Pinterest) grew from 15 followers to close to 8,000 and is currently at more than 10,000 monthly viewers.
Tablespoon.com is a stellar mix of not only kitchen-tested recipes and how-tos but also recipe contributions from "thousands of passionate everyday cooks from around the world" — the site's registered users. Consumers may search using smart filters to narrow results and browse categories such as Apps & Snacks, Parties & Holidays, or Desserts. And, while there are cleverly placed coupons and sales on the site, the site is a testament to serving consumers and creating success without overt branding.
"We don't hide the fact that we're a General Mills brand; you can find the reference in the Terms of Use and About Us sections of the site," Anderson noted. "Tablespoon.com definitely has its own brand voice in a very rich consumer space. It's not our goal to overtly brand all the company websites as General Mills; rather there is value in the voice, the engagement, the content that is resonating with a particular consumer group. We inject and embrace brand content when it is relevant, but we don't force branding on Tablespoon.com. The purpose of Tablespoon.com is to add value for our consumer."
My Food and Family by Kraft Heinz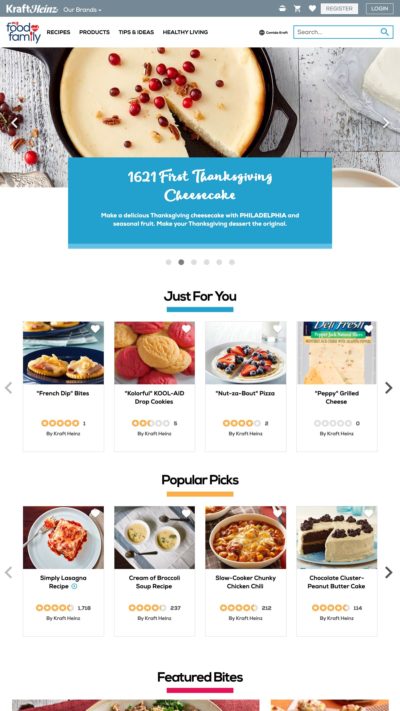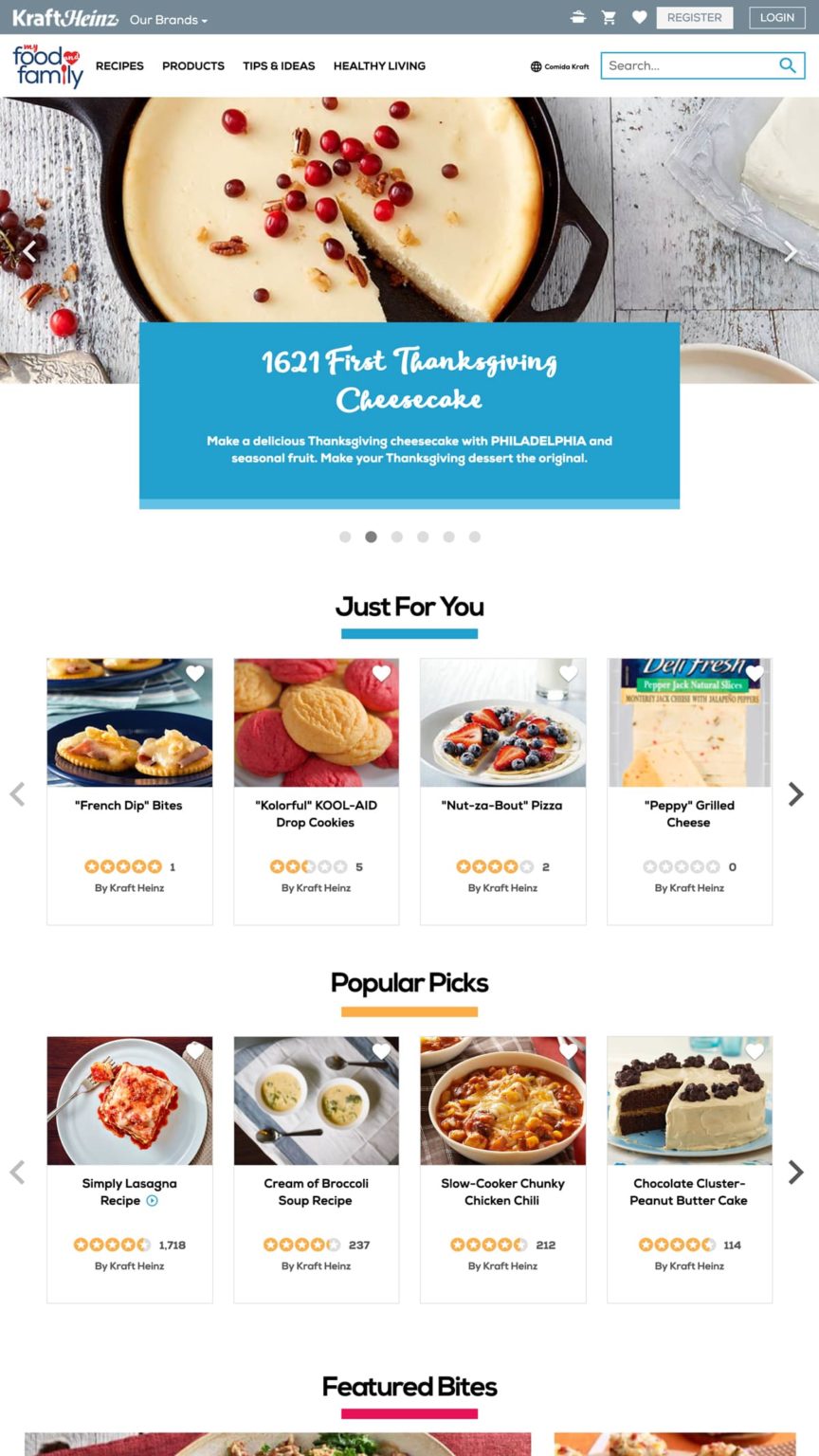 Kraft Heinz inspires home cooks and chefs, and adds value to its consumer base, with shoppable recipes that take advantage of the company's diverse portfolio, and reserving just a small nod to its brands on My Food and Family. That's smart business, according to the Content Marketing Institute, "Content marketing generates over three times as many leads as outbound marketing and costs 62 percent less."
When the My Food and Family website was relaunched earlier this year, Ryan Watson, head of media platforms and marketing AI at Kraft Heinz, said, "At its core, My Food and Family is designed to take the stress out of meal prep… Gathering at the table with family and friends is all about sharing an experience. This user-friendly site makes it easier for consumers to do just that through a wide range of content, easy-to-use digital features, and a variety of retailer partnerships."
Here's how seamless it is when home cooks are searching with tips and ideas. Let's use "party apps" as an example: The helpful Appetizer Math tool on the site breaks it down by type of gathering and number of guests, and links to appetizers and snack recipes. There, consumers can browse to their hearts' content or narrow by search. Recipes are robust and include prep and cook time, servings, ingredients and instructions, plus kitchen tips (such as substitutions) and nutrition information. When they're ready to shop, consumers can create a free account to add ingredients to their cart, which then prompts for a zip code to identify nearby grocers and retailers; or, they may add the ingredient products to their shopping list to save for later.
In a nod to what continues to trend, My Food and Family features a Healthy Living center that caters to special diets, offers nutrition tips and recipes, as well as lifestyle tips that are food– and workout-related to keep health-minded (or those dipping a toe into a healthier lifestyle) engaged. Consumers also keep an eye on trends through My Food and Family's social media sites, including Twitter.
What's for Dinner by T. Marzetti Company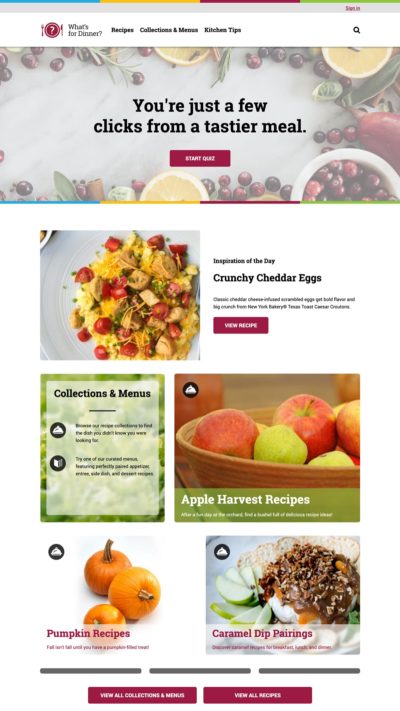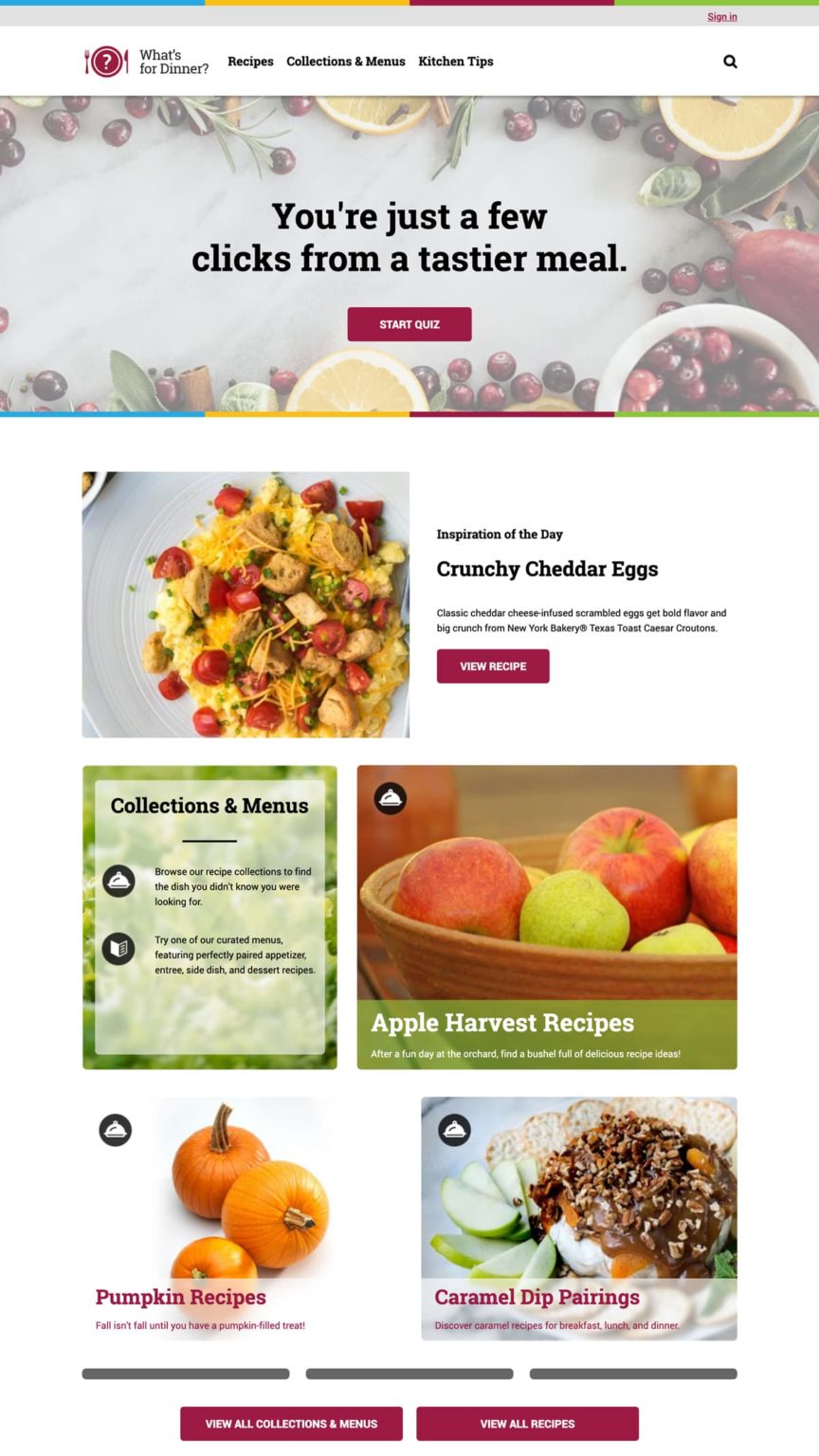 Marzetti's What's For Dinner promises "Find Tonight's Dinner in 3 Clicks" — and then it delivers on its promise with hands-and-pans how-to videos, recipes and home-cook-friendly kitchen tips. The What's For Dinner site is largely unbranded, with just a nod to its key brands in recipe ingredients. The site leverages a vast array of recipes that consumers have the ability to search by collection, cuisine, course, protein, dish and more.
A former brand manager who was in charge at the time of What's For Dinner's launch, and who's no longer with the company, said, "What's For Dinner is a labor of love from a company dedicated to bringing people together around a table to share a great meal. With more people than ever appreciating all the good that comes from preparing and sharing meals together, we were compelled to join the conversation and offer our own deliciously inspired answers to the question: 'What's For Dinner?'"
Visitors to the site who can't decide what to make for dinner can start the quiz on the home page, which walks them through what they're cooking (poultry, red meat, seafood, vegetarian or "I Eat Everything!"), the style (American, Asian, Southern/BBQ, soup, etc.) and how much time is available to make the meal (from less than 30 minutes to up to all day). The quiz results recommend favorite recipes that fit the bill. Visitors to the site are prompted to register for a free account to save recipes, which are comprehensively presented to include prep and cook time, ingredients and directions and, in most cases, illustrated with overhead photos and a hands-and-pans how-to video. When home cooks are ready to roll, they can add items to their shopping lists and email or .pdf them, as well as use the meal planner to conveniently queue up a week of dinners and shopping lists.
Marzetti Company collects consumer feedback on the fly by asking if they'd make the recipe — or, not. This informs future recipes, collections and kitchen tips. In tandem, the company also keeps an eye on consumer preferences on its social media platforms, such as Instagram to help guide its content marketing efforts.
Partner with Culinary Content Pros for Success
Today's home cooks are looking for new ideas — fast. Your customers are hungry for easy ways to plan, shop and cook that they can find, access and download to smartphones and tablets. Your brand can provide a show-stopping recipe-filled site, rich with targeted recipes, recipe videos, photography and blogs that will delight and inform your current customers and help you attract new markets and business.
The Content Marketing Institute says, "Content marketing rakes in conversion rates six times higher than other methods." While some brands employ an in-house team to handle the task, others outsource to a culinary content agency to create custom, on-brand content — at a significant savings over hiring and managing an internal department.
Partner with, and rely on, the culinary pros on the Dish Works team. We're a culinary content agency working with top brands, and we'd love to work with you. Dish Works is a one-stop content shop comprised of food-loving professionals who are dedicated to making culinary brands shine. We excel at creating food and drink content for top brands and agencies. See how our recipe test kitchen, food-and-drink video studio, food-and-drink photography studio, and animated gifs services, plus our writing and design center, are all helping brands put their best faces forward (and also helping them to grow!).
Check out these testimonials and give us a shout to learn more.