On Wednesday, July 5, Meta (the parent company of Facebook and Instagram, among others) launched a brand-new app: Threads. Though it has an Instagram-ish feel to it, the purpose of Threads, according to its creators, is to be an app for text in the form of real-time updates and public conversations.
Many have hailed the launch of Threads as direct competition to Twitter, and the excitement around this new platform is palpable: Over 100 million people joined Threads in its first 5 days. Among those early adopters are a number of large and small food brands, as well as creators and content agencies (yep, Dish Works is on Threads; find us at @dishworksstudio).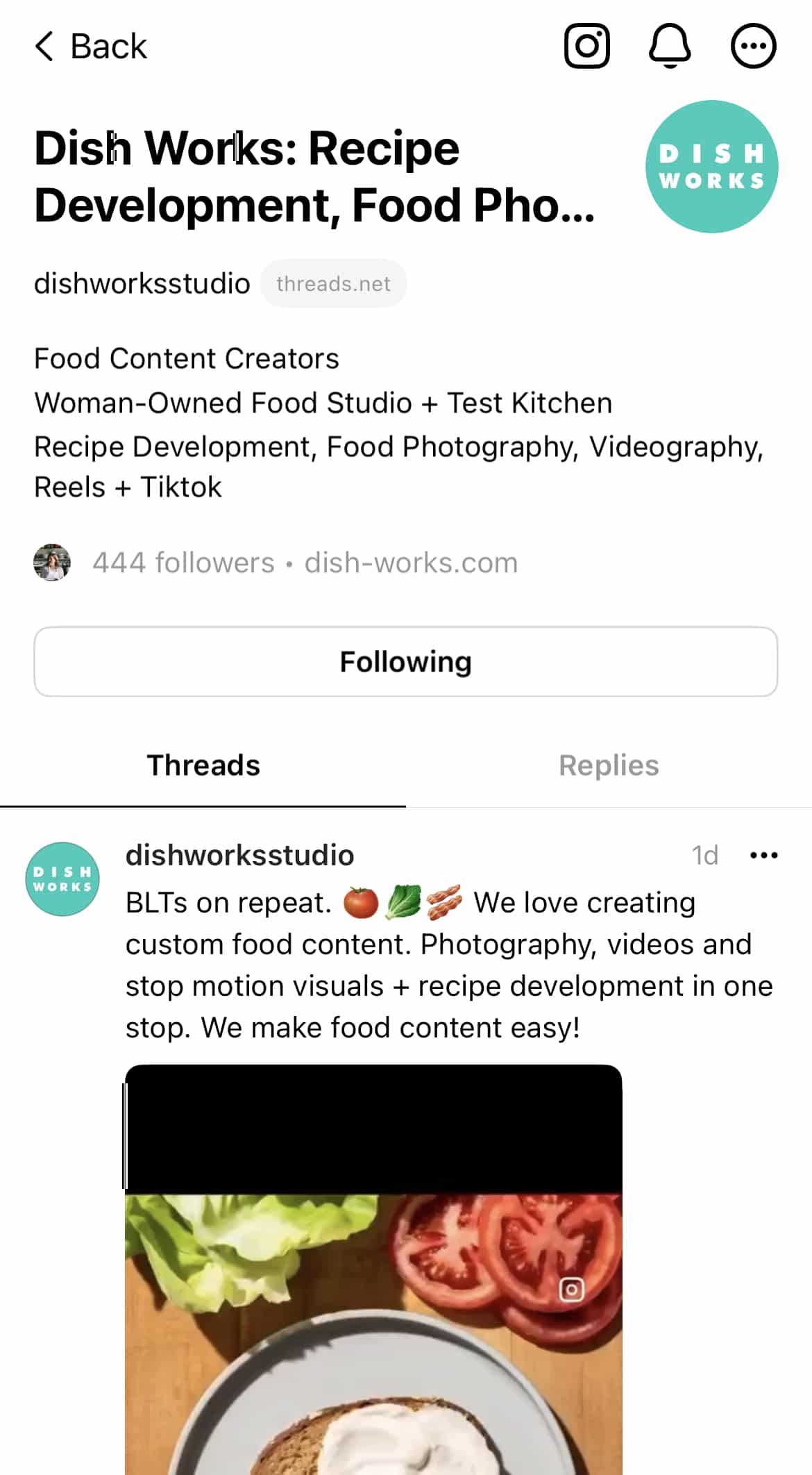 When any new social media platform hits the scene, we think it's a best practice for brands to jump right in and explore what opportunities there might be for content marketing and making connections with fans and other brands.
The basic functions of Threads add up to a streamlined, simplified app meant for ease of use. Each post has a 500-character limit, which can support images, with very little compression. There is no DM functionality, no way to create drafts, no search functionality, no hashtags and, for now, no advertisements. It doesn't yet support simultaneous log-ins from multiple accounts, and who you follow can be tailored by the user, so it's not only the algorithm that decides what content floats across your feed. Threads recently announced that there will be an option for a chronological feed coming soon, as well. So far, it also seems like there is a higher percentage of engagement on posts compared to Twitter.
Of course, all of these facts are subject to change as the app developers learn more about how audiences are using the platform, but as of the writing of this post, Threads still feels like the Wild West. There aren't any hard-and-fast rules about how best to use it — after all, there can't really be "experts" on a platform that just launched. What that means is that Threads, in this early stage, is a place for individuals and brands to experiment and have a good time. This can mean a refreshing bit of freedom for social media managers or content marketing teams.
TBH, we've seen so many brands overthink and over-plan their social media marketing strategies that they forget to have fun, which is sort of what social media is all about. Threads, at least for the time being, is a wide-open playground, where creativity and cleverness reign supreme. One thing that's interesting about Threads in this moment is the amount of wacky silliness that abounds, like brands announcing themselves saying "I am ___" or using lines of the same emoji. (For a fun round up of the best first posts by food brands, pop over to this post by Spoon University.)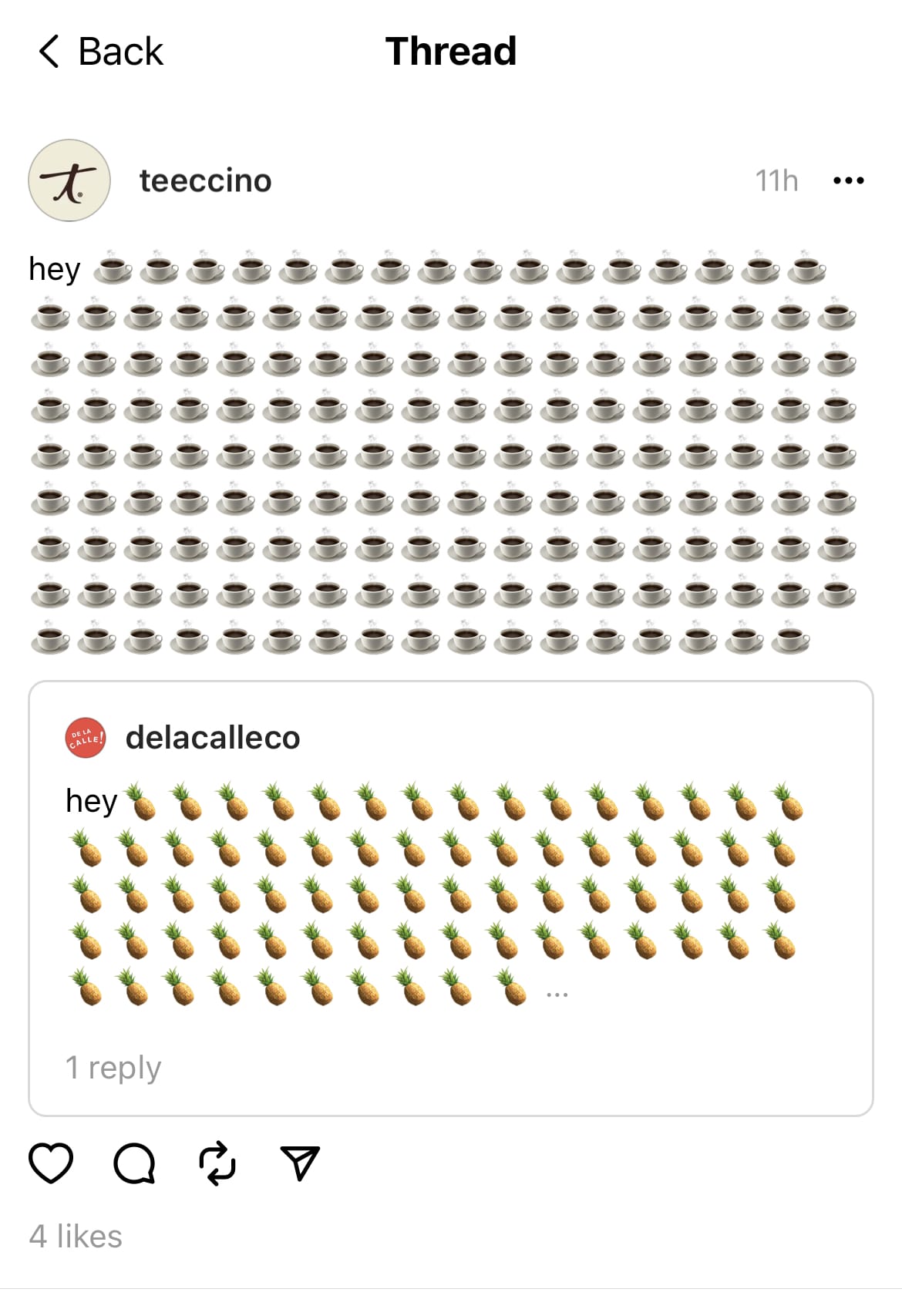 There's another encouraging thing about Threads, too: the absence of haters (at least for now). The app has positioned itself as a "positive and creative space to express your ideas," and Meta is actually backing that up with progressive investments in helpful security features. These include the ability to add hidden words to filter out replies to threads that contain specific words, and being able to easily unfollow, block, restrict or report a profile. With so many other social platforms clogged with trolls, bots and spam, it's heartening to think of Threads as a space potentially free from those forces.
Similar to Twitter, text takes center stage on Threads, but there is plenty of room for visuals, including still images, videos and GIFs. Users can "like" a thread, repost it, or reply to it. So far, the culinary brands we've seen using Threads are trying a combination of witticisms, non sequiturs, memes, as well as more traditional posts, like links to recipes or products.
A primary way we've observed brands driving engagement is by posing questions to their community of followers, which often sparks conversation in the replies. Some are open-ended questions related to their products, like Wendy's asking "bacon or sausage this morning? help":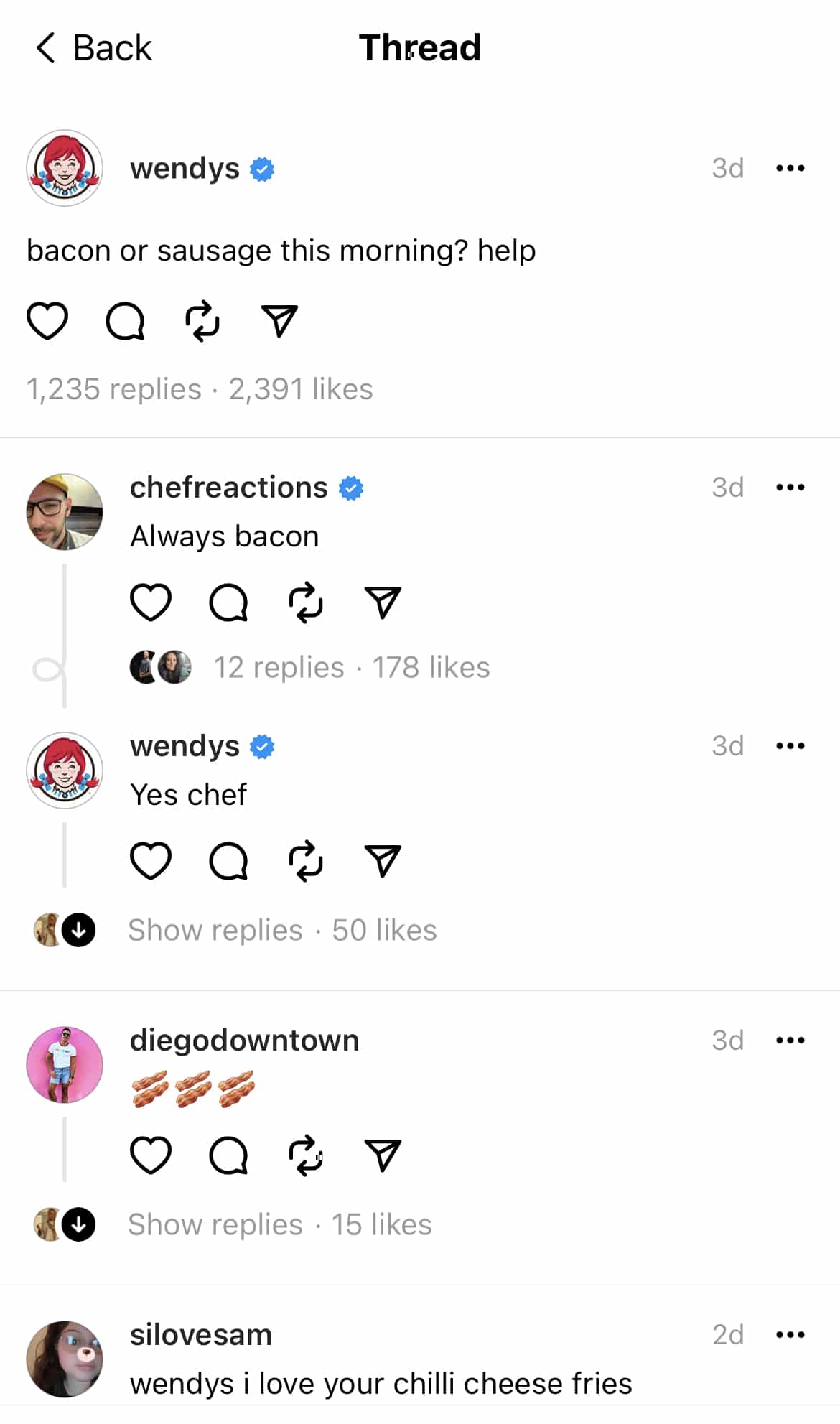 Sometimes, more controversial questions fuel a healthy debate among followers in the replies. Other times, brands interacting with each other create surreal humorous moments that make it sort of feel like everyone's just hanging out at a massive party. It just goes to show that we, the growing community of Threads users, are co-creating what the app is and can be.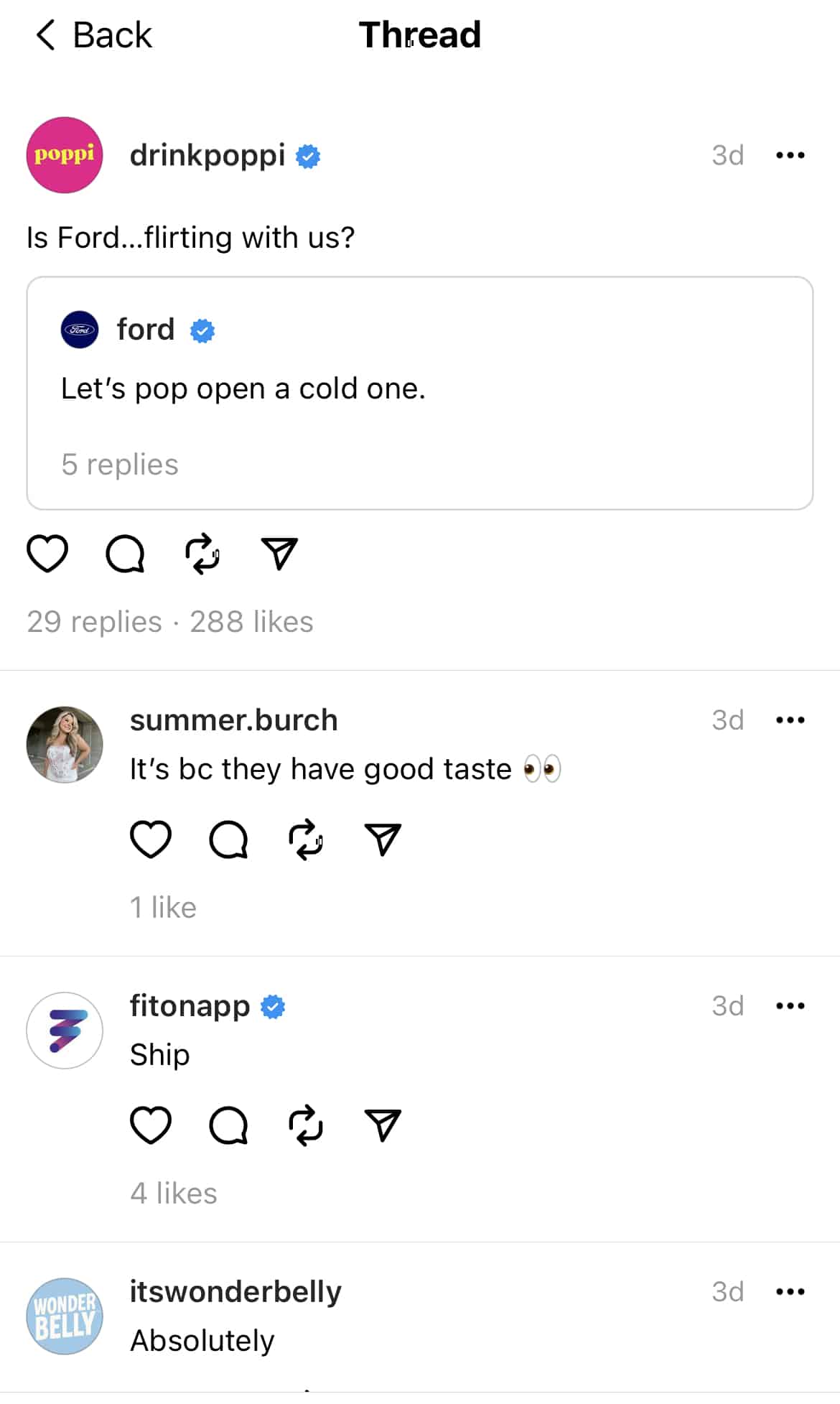 It's important for culinary brands to log in to see how other brands and creators are using Threads. It's a very user-friendly process — you can basically just port over all your info and followers from Instagram. Eventually, Threads will be compatible with ActivityPub, the open social networking protocol which would make it interoperable with other apps, like Mastodon and WordPress. This means even more ways of connecting with fans and customers.
Of course, as a content creation studio, we're always paying attention to how visual media is being utilized in social media. Though Threads is text-based, we've seen tons of threads that include all manner of images, videos and graphics to inspire, educate or just for a laugh. It is quite possible that new ways of combining text and images will emerge in Threads, and we encourage brands to maintain a healthy collection of owned content to leverage across various platforms.

To discuss how to up your game when it comes to beautiful visuals for Threads, Instagram, TikTok and beyond, reach out to Dish Works to get the conversation started.