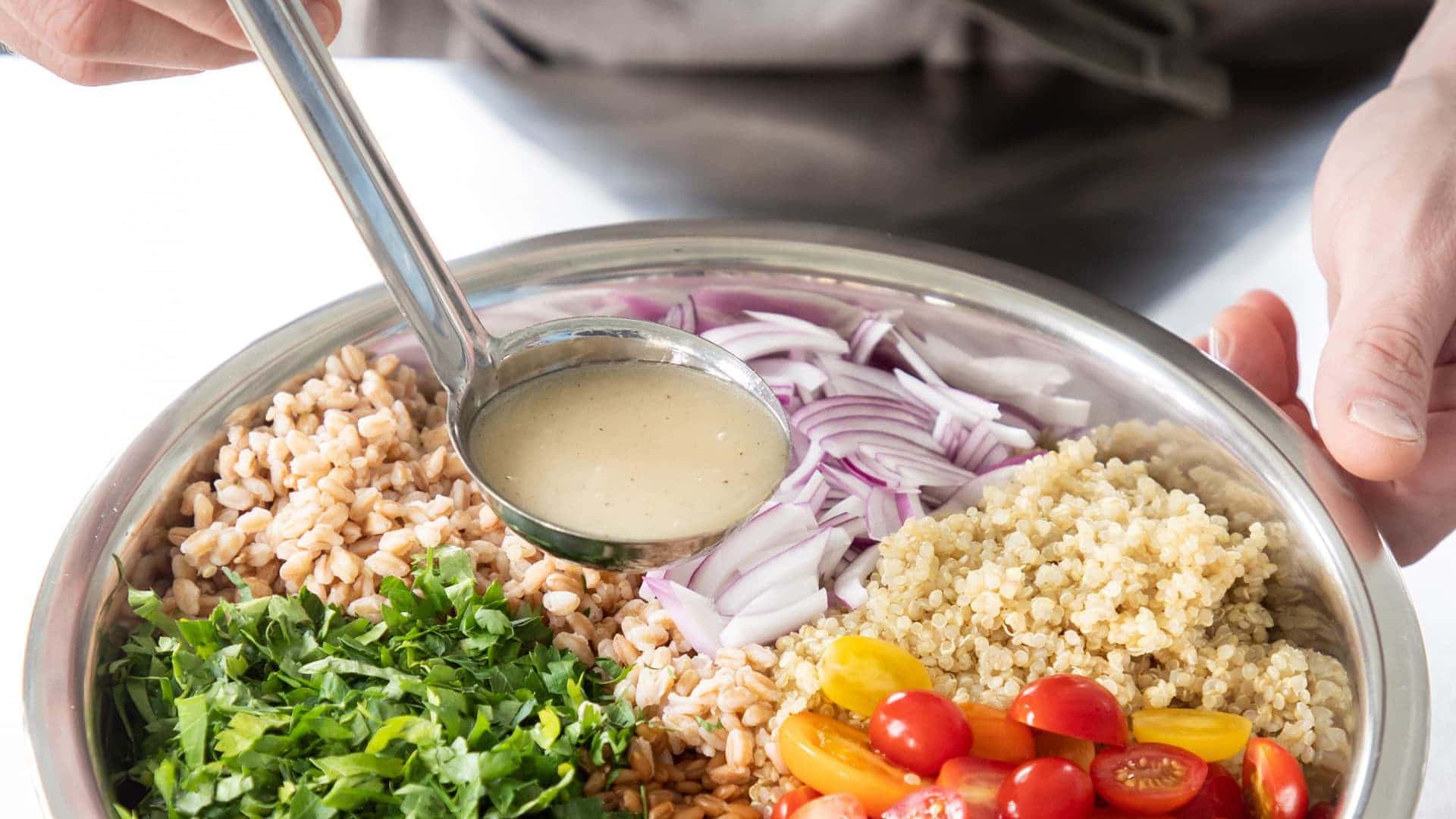 Think beyond the home consumer for a moment. We know — they're important! But take a second to consider how your B2B (business-to-business) marketing informs, educates and entertains pro chefs and decision-makers through your website, social media and beyond.
Speaking directly to restaurant and foodservice insiders in an authoritative way builds trust, solidifies your position as the brand authority and inspires them to take another look at your products — and at ways to incorporate your products into their culinary creations. Check out these two brands that are highly successful speaking to pros with recipes, hands-in-pans videos, overhead photography and solid, actionable advice.
Bring the Flavor (and the How-Tos)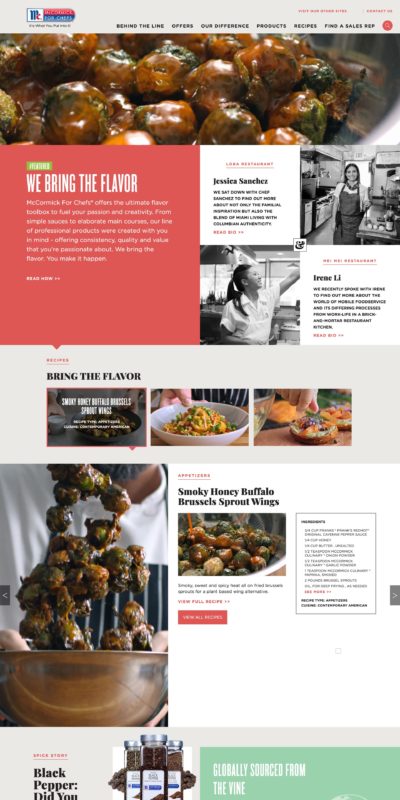 To say chefs are busy people is an understatement, so anything to make their lives easier is going to attract their attention and bring eyes to your content. McCormick for Chefs® does this, and more, in quick bites that satisfy: Its "flavor toolbox" offers pro chefs "consistency, quality and value," with everything from "simple sauces to elaborate main courses." It doesn't simply list products (which are, of course, showcased, and can be easily filtered by brand, category and other attributes, such as "no MSG added"), it shows how it's done:
Recipes that boast bonus chef's tips, like an irresistible Hot 'N Dirty Martini and spicy Battered Buffalo Cauliflower and Dip. Chefs can filter by dish type, main ingredient, collection, season and McCormick brands.
Quick Chef Insider Tip videos that highlight specific, helpful and often time-saving tricks of the trade, like the right dry spice mix to use for Flavor-Packed Brisket and an oyster farmer's Oyster Shucking secrets. These, too, can be found by searching and drilling down under "articles."
Chef Collections that go beyond the menu to offer delicious solutions to common concerns, such as Low Sodium, High Flavor and Meatless Monday. Want to nerd out and get into learning about a spice? Check into "Spice Stories" on the site, which illuminates even the most basic staple: black pepper.
Because McCormick for Chefs is as much about passion as it is flavor, the site features Behind the Line, chef stories, collaborations and still more tips, a nod to the culinary partnerships that "bring together the best culinary minds from across the country and beyond. Through sharing of new ideas, developing innovative recipes and highlighting inspirational flavors, these collaborations are creating new and noteworthy taste innovations." And it's all for the taking, including a robust social media presence on YouTube, Instagram, Twitter and Facebook for pros looking for inspiration when they're on the go.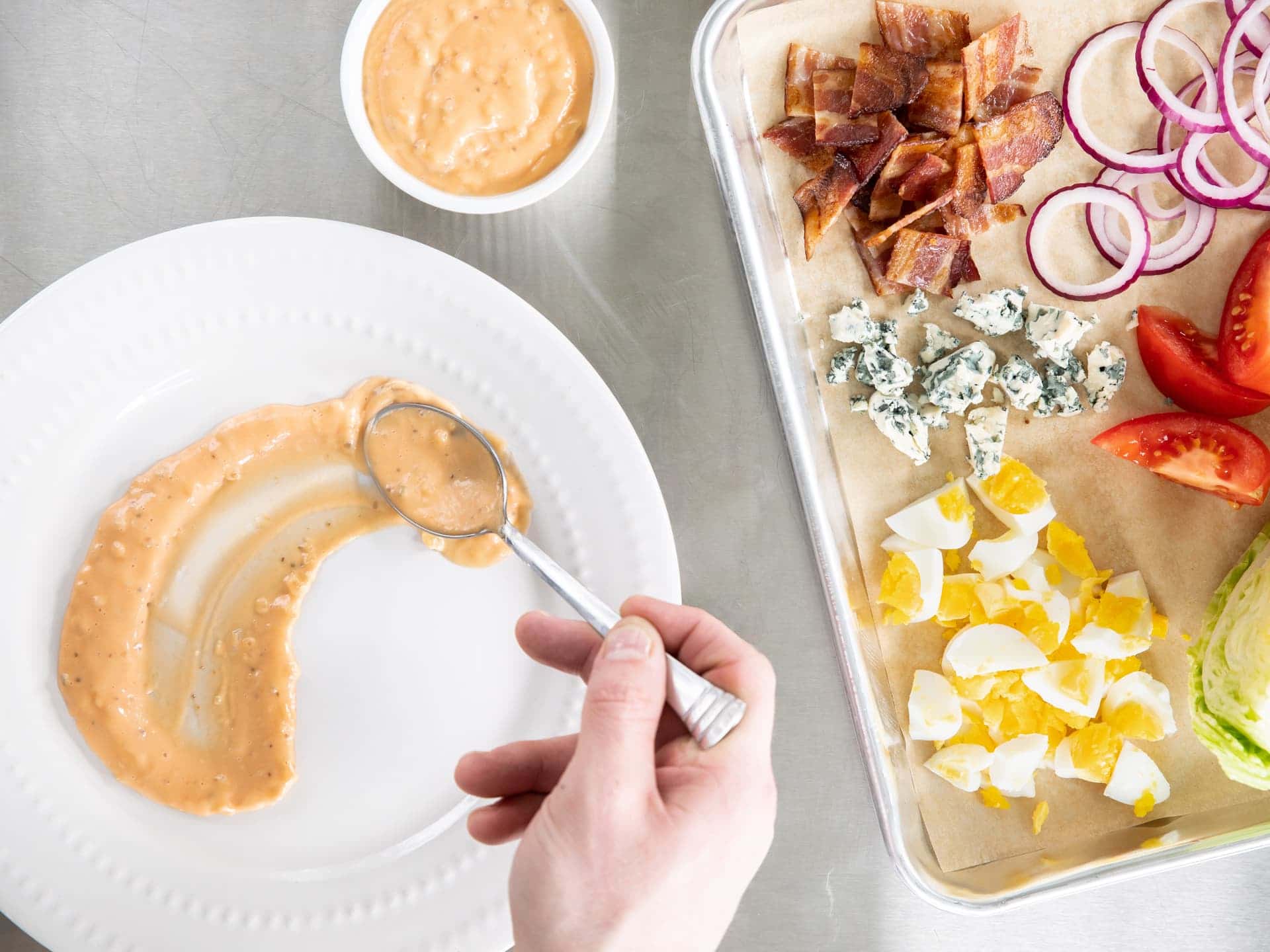 At the Heart of Food and Service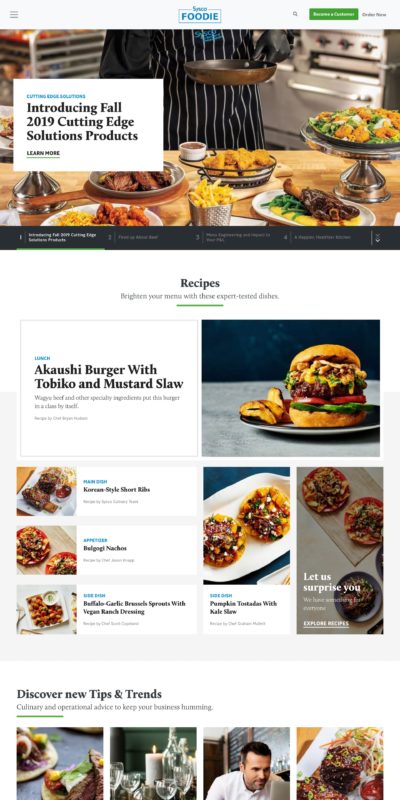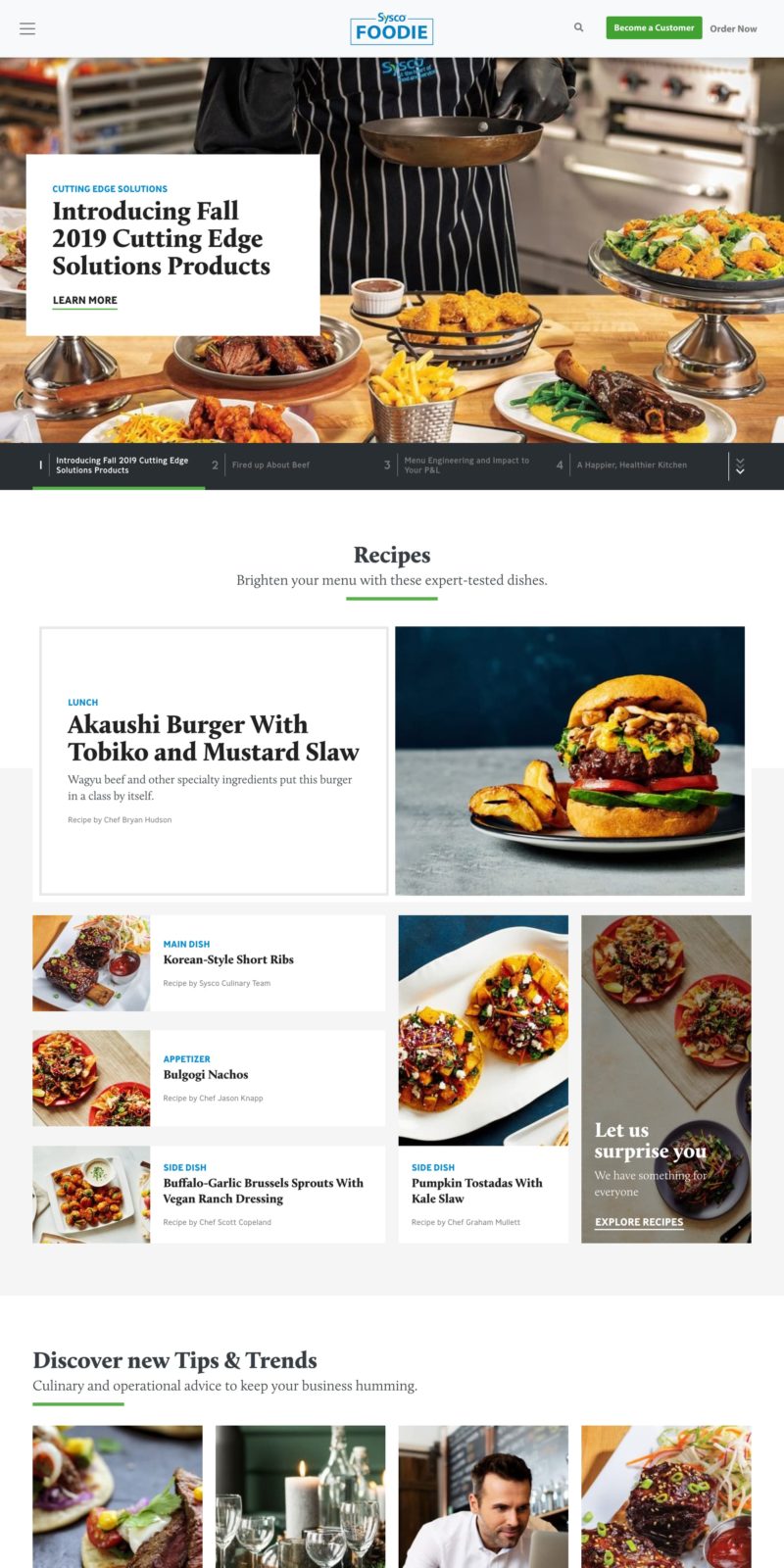 Sysco is no stranger to the digital food content space: Sysco is the "global leader in selling, marketing and distributing food products to restaurants, healthcare and educational facilities, lodging establishments and other customers who prepare meals away from home." Through Sysco Foodie, its audience of food service professionals is treated to content they can use to improve menus and business processes.
A cutting-edge YouTube channel puts pros right into the picture with Tasty-style how-tos, such as a new twist on Scallops and Elotes, plus educational 411s, like Beef 101: Bone-in vs Boneless Ribeye. That and more are available on your smartphone on Instragram, Twitter and Facebook.
Partner With Content Pros to Create Better B2B Engagement
Working with a culinary content house that's an authority on foodservice is critical to assure your food-and-drink recipe videos, recipes, photography and blogs are B2B-focused and targeted to your audience of chefs, pros and suppliers. That same content can be reformatted and repurposed for social media, email and trade show booth applications. With a commercial kitchen, and professionally trained chefs and recipe developers, the Dish Works team is experienced in working with top brands — we'd love to work with you!
Dish Works is a one-stop content shop comprised of food-loving professionals who are dedicated to making foodservice brands shine, from a kicked-up Kentucky Bee Sting cocktail to Basil Pesto Kale Cobb to Country Corn Cakes and beyond. We excel at creating food-and-drink content for top brands and agencies. See how our recipe test kitchen, food-and-drink video studio, food-and-drink photography studio, and animated gifs services, plus our writing and design center, are all helping brands put their best faces forward (and also helping them to grow!).
Check out our testimonials and give us a shout to learn more.